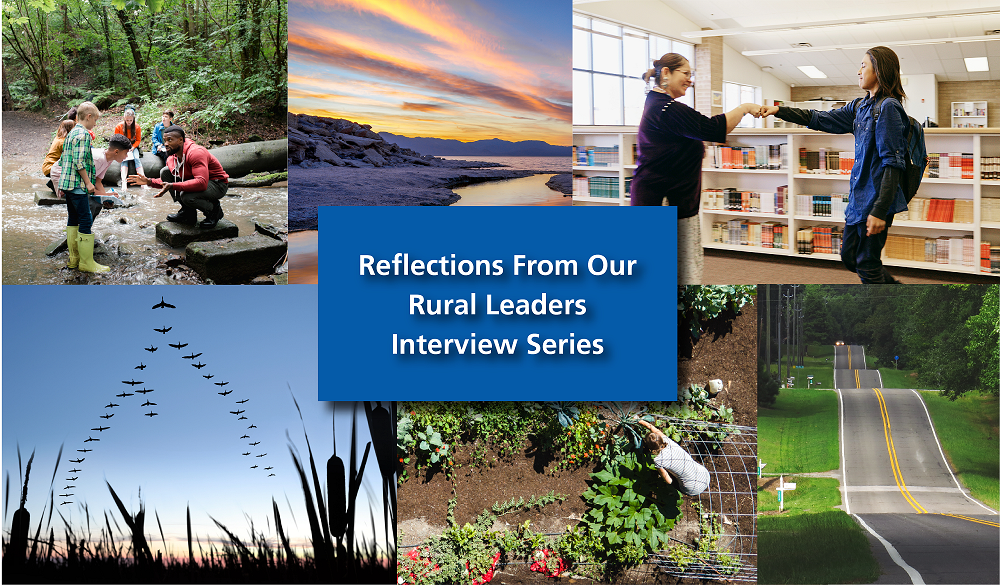 Over the last year and a half, we had the privilege of interviewing rural leaders across the country as a follow-on to our report Rural America: Philanthropy's Misunderstood Opportunity for Impact. We spoke with individuals building resident-led spaces for organizing in rural North Carolina, connecting community foundations in Kansas, addressing health inequities in the Imperial Valley of California, investing in Native communities in Minnesota, North Dakota, and South Dakota, and more. The final interview series reflected a small snapshot of the innovation, wisdom, and diversity of rural communities across the United States.
We believe that there is much to be learned from rural communities, and we wanted to share a few reflections from these conversations for funders considering how to engage rural communities in their work:
1. Rural communities know how to innovate
In our interviews, we heard how rural communities are coming together in expected and unexpected ways to address climate change, workforce development, education, and health challenges. Residents know the issues affecting their communities best, and there is immense power in being able to collectively build hyperlocal solutions that work for small communities or regions. Other communities facing the same challenges, including urban ones, have much to learn from these localized solutions.
For example, in tight-knit rural communities, there is tremendous power in being able to mobilize these networks and informal infrastructure to address shared challenges quickly. Chester Williams of A Better Chance, A Better Community shared an example of how a community member who was passionate about GIS mapping created a tool that other residents could use to document damaged community infrastructure, such as unwalkable sidewalks or dark street corners. This is just one example of how their organization brings together people from across rural North Carolina to meet community needs in ways that leverage the interests of residents.
Similarly, Anita Patel of the Bush Foundation noted that much of what is seen as "innovation" now is rooted in the historical knowledge and wisdom of many rural and Indigenous communities, who have long prioritized caring for the planet and considering the impacts on generations to come. This was echoed by Martin Jennings of the Northwest Indian Community Development Center, who shared how global warming, supply line failures, and resource depletion all point to the need for building more sustainable economies, rooted in place.
2. Investing in rural communities is an investment in equity
It is necessary for funders to increase their focus on rural areas if they are to address long standing inequities in the United States. Currently, only 7% of philanthropic dollars currently go to rural areas in the United States, with significant variation in the availability and investment of philanthropic funds across regions.
Rural communities face consistent inequities across social indicators in areas such as health, education, and financial well-being, with 80 of the 100 most disadvantaged communities in the United States being classified as rural. In our interviews, we saw the ways that these inequities were reflected in different communities. For example, Martin Jennings of the Northwest Indian Community Development Center spoke about the legacies of colonization and land extraction from Native tribes; Taylor McCabe-Juhnke of the Rural Schools Collaborative spoke about the rural teacher shortage and the inequities that hamper rural education, including broadband access; Chester Williams of A Better Chance, A Better Community spoke about the environmental challenges in northeastern North Carolina and the lack of disaster relief for hurricanes, flooding, and more; Roque Barros, Jr. of the Imperial Valley Wellness Foundation spoke about the health disparities in the Imperial Valley due to environmental exposures such as air pollutants, pesticides, and hazardous waste.
These inequities are the product of a range of historical, economic, political, demographic, and structural factors that are both national and region-specific; it is therefore important for funders to recognize their role in addressing these challenges.
3. Funding rural communities requires challenging ideas about capacity and scale
Rural leaders we spoke with shared that many national funders are reluctant to fund rural communities because they fear it will require too much work and overhead to find grantees, and because their boards and leadership are motivated to show maximum "scale" of impact, which they don't feel is feasible in rural communities with a smaller population size. Interviewees we spoke with pointed out that these concerns are easily addressable by shifting funding mindsets and practices.
Concerns about the level of overhead and capacity required to work in rural communities can be addressed by realizing that individual funders don't need to go it alone. There is a tremendous opportunity for national funders to work with the rich network of intermediaries, or what the Aspen Institute calls Rural Development Hubs—including the Imperial Valley Wellness Foundation, community foundations, rural focused community development financial institutions (CDFIs) like Communities Unlimited, or regional funding networks like the Appalachia Funders Network or the Texas Rural Funders network to help bridge the funder-community divide. As Svetlana Hutfles of the Kansas Association of Community Foundations shared by way of example, "Community foundations in rural areas or small cities are very passionate about their communities and hold a high level of social capital and trust in them. They can quickly mobilize the community, especially when resources are available, and be flexible. They are deeply knowledgeable about the 'matrix' of the community."
Concerns about demonstrating "scale" of impact can be addressed by shifting funders' focus from the absolute numbers of people impacted by a program to community-level change in specific places. The Aspen Institute's report, Measure Up: A Call to Action, provides a detailed guide to learning and evaluation for rural philanthropy that was informed by rural leaders from across the country.
4. Funding rural communities is an opportunity to apply overall best practices for philanthropy
 Working in partnership with rural communities might seem different to some funders than grantmaking in urban areas. In reality, the same approaches that are seen as best practice in many national and urban funding circles, including trust-based philanthropy and systems change, are not only applicable, but also requirements of effective rural philanthropy. Rural communities present a compelling opportunity for funders to not only advance their equity and impact, but to advance their practice as organizations.
Many foundations not located in rural communities are not familiar with the specific norms, culture, and priorities of these regions. As a result, funders need to spend a substantial amount of time on the ground in rural communities listening and learning.  As Roque Barros, Jr. from the Imperial Valley Wellness Foundation (IVWF) shared, "I have learned that it's really critical to start with the community's agenda and not your own. Funders must honor the community's pace, take their time with the community, and listen in order to learn from them."
Funders can also simplify barriers for organizations in rural communities to receive funding. Often, rural or small community organizations have limited operating budgets. Many are volunteer-led or have a part-time staff of one, which significantly limits their ability to respond to RFPs or funding opportunities. In partnership with rural communities, funders can focus their efforts towards developing trust-based philanthropic models, simplifying application requirements, relying on intermediaries to disburse funding for rural organizations, and supporting community priorities.
Similarly, another way of looking at the "scale" concern that many funders have about working in rural communities is that because rural communities are smaller in scale, it is easier to see and address the way that different systems intersect. Indeed, most rural communities don't have the luxury of having siloed issue focused systems, and many organizations and individuals wear multiple hats within the community. This makes the impact of culture, policy, and relationships, and the interplay between areas like education, health, and economic well being more visible and understood in the community. For funders interested in systems change, rural communities provide an incredible opportunity for innovation.
---
It is imperative for us to pay greater attention to rural communities for our country as a whole to thrive. National challenges including growing political polarization, increasingly visible and severe effects of climate change, and rising inequities in wellbeing can only be addressed with rural communities as part of the solutions. Funders have a large role to play in building bridges across communities and fostering new sources of innovation, and we hope that you will join this journey with the many organizations already deeply invested in rural America. We encourage you to check out the rest of this interview series, to connect with and learn from rural leaders, and to find ways to bring a rural lens to your work.