Growing Livelihood Opportunities for Women (GLOW)
FSG's Growing Livelihood Opportunities for Women program aims to empower women in India and promote gender parity.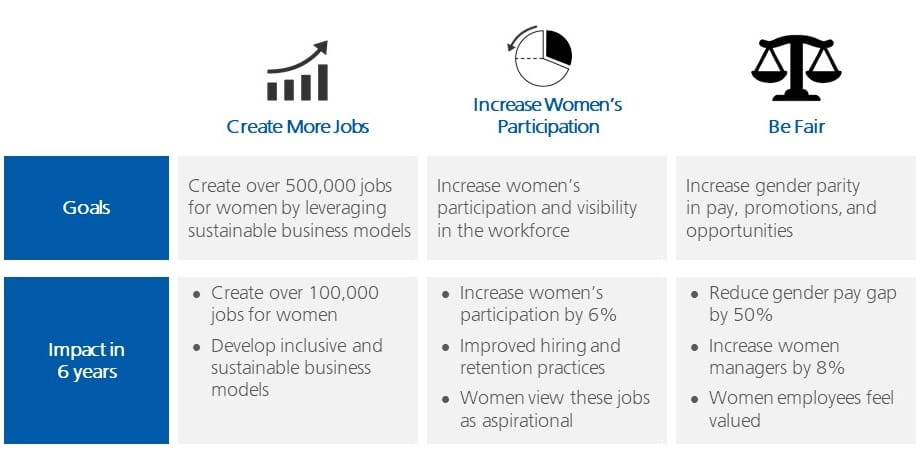 In India, prohibitive social norms and unsuitable jobs continue to restrict women's workforce participation. Over the last 14 years, 45 percent of working women have dropped out of the workforce compared to only 12 percent of men.[1] As of 2021, the World Economic Forum ranked India 151 amongst 156 countries in women's 'Economic Participation and Opportunity.' More jobs for women means more empowerment for women, with further benefits to their families and society.
There are three common approaches to improve women's participation: skilling, boosting self-employment, and job creation. Each has its own benefits and challenges. Teaching new skills without accompanied job creation is leading to declining wages, and women may not prefer self-employment due to uncertain and low earnings (e.g., 90 percent of self-employed women earn less than USD 135 per month).[2] Thus, GLOW has opted to focus on the third approach of job creation.
GLOW's goal is to create more than 500,000 jobs for women, increase women's participation and visibility in the workforce, and increase gender parity in pay, promotions, and opportunities.
GLOW's approach is to develop and scale three inclusive and sustainable business models that can increase women's workforce participation by creating well-paying and aspirational jobs. We have identified home healthcare, last-mile delivery, and flexi-staffing as 3 industries with high potential to employ women. Over 6 years, GLOW will work with private sector companies ("partners") within these industries and support them to adopt inclusive business models and best practices to promote gender parity and create tens of thousands of jobs. After GLOW ends in 6 years, the companies will, hopefully, continue to grow and create half a million jobs for women.
GLOW has developed a strong understanding of the employment landscape and women's employment related challenges.
Secondary research: We reviewed over 100 reports (e.g., The World Economic Forum's Global Gender Gap report, The World Bank's report on the Stagnation of Female Labor Force Participation in Urban India, The India Forum's Employment Question in India) and analyzed multiple government databases (e.g., NSSO 2004, NSSO 2018) on population, employment, and participation. The research helped us understand employment trends in India, underlying drivers, and challenges faced by women. The research also helped break common perceptions such as 'an increase in wealth or education are reasons for the decline in women's participation.'
Primary research: GLOW has initiated a large-scale primary research with more than 5000 women and their families to understand women's beliefs, motivations, agency, decision-making process, and barriers in pursuing employment.
GLOW has identified home health are, last-mile delivery, and flexi-staffing as industries with high potential to create a large number of jobs for women. 
Read more about GLOW's industry selection criteria and process >
Home healthcare (HHC) is the provision of healthcare services at home. HHC has the potential to employ approximately 66,000 attendants[3] by 2026. But the industry faces barriers (e.g., high attrition) that prevent employers from scaling. Read more about the Indian HHC industry  >
Last-mile delivery (LMD) is the final leg of a delivery when an online purchase is delivered to the customer. LMD has the potential to create more than 1 million[4] additional jobs by 2025. Today, less than 5 percent[5] of delivery agents are women. Employers are keen to recruit women but have not been able to adapt the role to meet women's employment needs. Read more about the LMD industry >
Flexi-staffing is the provision of temporary and trained semi-skilled employees to large companies. Flexi-staffing has the potential to create 6–12 million[6] jobs by 2030. Multiple frontline roles could be a good fit for women, however employers face barriers in recruiting and retaining women. Read more about the flexi-staffing industry >
GLOW is funded in part by: