Growing Livelihood Opportunities for Women
GLOW's Approach to Industry Selection
Logistics and flexi-staffing emerged as high potential industries to create 100,000 jobs for women in India.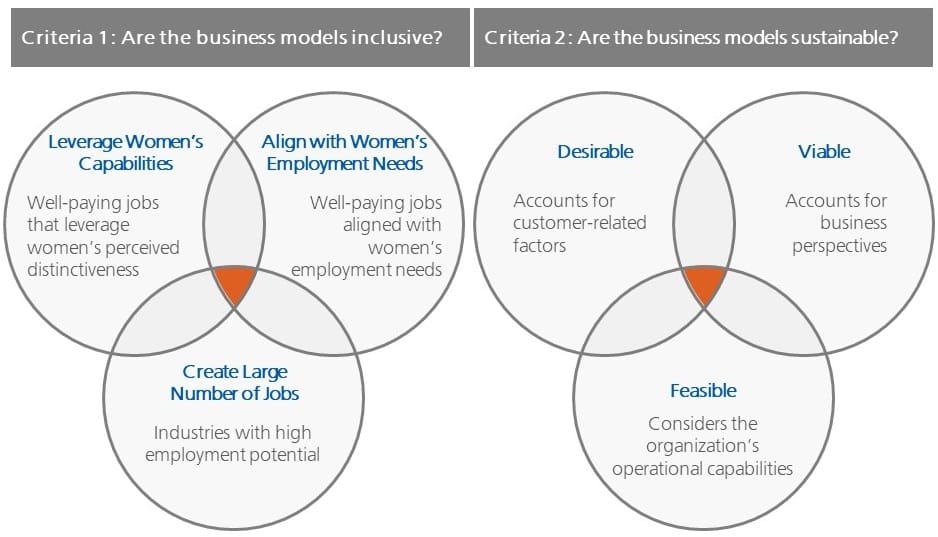 GLOW used two criteria for selecting the business models.
GLOW shortlisted logistics and flexi-staffing industries based on three criteria: potential to create large number of jobs, leverages women's capabilities, and aligns with women's employment needs. We evaluated 18 business models and deprioritized 16 of them, as the employment potential for women or business model viability was unclear.
Key Insights on Selection of the Two Industries
Creating regular jobs for women helps increase women's participation sustainably as compared to skilling or boosting self-employment

Skilling: While it increases employability and opportunities for self-advancement, skilling a lot of individuals when the market has few job opportunities to offer might lead to wage stagnation. Approximately 0.4m jobs are created annually for nearly 1.9m individuals entering the labor force each year[1]
Self-employment: Women may not prefer self-employment due to the uncertain and low earnings (e.g., 90 percent of self-employed women earn less than USD 135 per month[2])
Regular jobs: Women often prefer regular, fixed-wage jobs over risky entrepreneurship opportunities[3]

Logistics, involving involving the transport and storage of the parcel from the seller to the end-consumer, has the potential to create approximately 2.6 million additional jobs between 2020 and 2030.[4] The industry is fueled by rapid expansion of ecommerce in India
Flexi-staffing companies, which involves the provision of semi-skilled frontline employees (e.g., retail promoters, tele-calling agents) to companies, are expected to create approximately 4 million jobs between 2020 and 2030.[5] The growth is fueled by large companies increasingly wanting to outsource non-core activities (e.g., recruitment, compliance management)