Last week, BlackRock Chairman and CEO Larry Fink mailed his annual letter to CEOs. Coming from the head of the world's largest asset manager—BlackRock manages over $6 trillion in investments—it carries a special weight in any year, but this year's letter is particularly noteworthy. In the letter, Larry Fink makes a monumental statement, calling on CEOs of the world's largest public companies to not just deliver profits but to fulfill their responsibility to make "a positive contribution to society" or risk losing the support of BlackRock.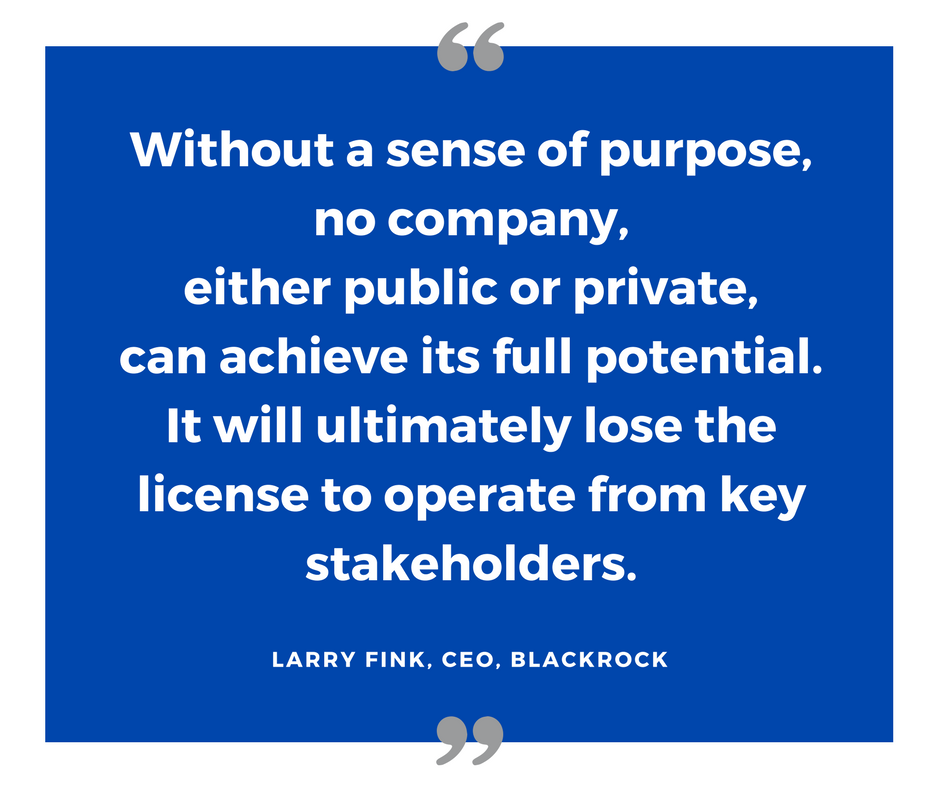 His mandate underscores the quickly evolving role of business in society—a trend that began decades ago but has come to the forefront of public discourse over the past 2 years. Following the strong support from many CEOs on LGBTQ rights in 2016, we saw business leaders advocate in newly public and vigorous ways in 2017 for solutions on issues like immigration reform, climate change, and racism. Employees and customers increased pressure and used their spending power to hold businesses to a higher standard.
We strongly believe in the business case for corporations to engage deeply on societal issues through CSR and corporate philanthropy and by pursuing social and business impact through shared value strategies, and we have worked with dozens of corporate leaders for nearly 2 decades who believe that profit and purpose go hand in hand.
Customer, employee, community, and even competitor pressure have often driven large corporations to be purpose-driven and socially responsible. But, historically, the voice of the investor has pushed back on the business case for social impact. These strategies require a long-term outlook—companies may incur short-term losses but see higher returns in the long-term. But investors and company executives traditionally prioritize short-term returns, especially publicly-traded companies that often (but not always) support Milton Friedman's idea that engaging in social impact is not only outside of a company's responsibility but detracts from profits.
This is what makes Fink's letter especially impactful. Executives who resist social impact strategies have often hidden behind the veil of investor pressure to maximize shareholder value, but Fink's letter discounts a common misbelief that business and social returns are at odds with one another, saying, "To prosper over time, every company must not only deliver financial performance, but also show how it makes a positive contribution to society." Fink goes on to note that doing so is imperative to the survival of the company and its ability to reach its "full potential."
Institutional investors like BlackRock can be an important catalyst in driving businesses to not just be socially conscious but to integrate social impact into their core strategy. Without downplaying the importance of profits, Fink stresses the loss of potential returns to companies that fail to have a purpose.
How can business leaders respond to this call? Whether you are a corporate social responsibility leader interested in refreshing your strategy or a business unit leader rethinking your operations, we recommend you begin with identifying activities that support your company's core business.
CSR leaders can create an 'intent matrix' to visualize your existing philanthropic portfolio and identify opportunities for greater alignment with business strategy—The General Mills Foundation used this exercise during their strategic planning process.
Leaders looking to integrate social change into their core business can approach creating shared value in 3 ways: by reconceiving products and markets, redefining productivity in the value chain, and building supportive industry clusters at the company's locations. Toyota, for example, is exploring how to enable affordable mobility for people with disabilities, aging Americans, and their caregivers—driving product development, accessing new markets, and improving the quality of life for their customers.
Our recent publication, The Competitive Advantage of Racial Equity, written by FSG and PolicyLink, explores how companies like PayPal, Gap, and Cigna, are driving growth and innovation by advancing racial equity.
At FSG, we believe in the power of business—in concert with communities, philanthropy, government, and NGOs—to create meaningful change in our world.
Larry Fink's letter sets an exciting and hopeful tone for 2018. We look forward to seeing how CEOs and sustainability and CSR leaders commit to making progress on pressing social issues in the coming year.
Learn about FSG's CSR/Corporate Services >
Register for the 2018 Shared Value Leadership Summit >