FSG believes the private sector can play a critical role in helping address the world's social and environmental challenges. Corporations, through their core business and their philanthropic activities, can help address social and environmental issues in ways that strengthen their competitive positioning and profitability.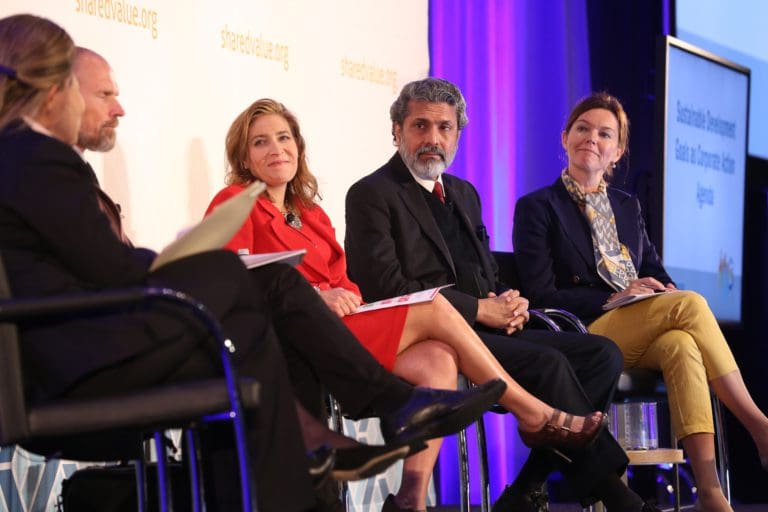 We serve as a strategic advisor to leaders and teams, offering customized consulting to corporations at every step in their journey. We draw on our experience working with industry-leading multinational clients, nearly two decades of research on innovative and effective practices, and dialogue with practitioners from around the world through the Shared Value Initiative.
FSG brings a mix of analytical support, stakeholder management expertise, and organizational change coaching to help teams align on and execute on a strategy. Our projects include meaningful engagement with C-level executives as well as with the people and communities our clients serve.
We have worked with more than 100 companies, many of them Fortune 100 companies, across industries (food & agriculture, health & pharma, IT, financial services, energy, and retail).
Analyzing and improving CSR and societal engagement portfolios, and identifying goal-oriented investment and partnership opportunities. We also work with companies to design "signature initiatives" that position companies as leaders in creating business-aligned societal impact.
Supporting companies in identifying an enterprise-wide societal purpose, and developing strategies that embed that purpose across the company.
Advising companies on how to tackle complex social problems that require broad cross-sectoral collaboration.
Improving Global Road Safety
FSG worked with AB InBev to develop a global road safety strategy and design the Together for Safer Roads…
Creating a Business and Social Impact Fund
FSG helped Dow connect its corporate citizenship and business opportunities.
Developing a Global Social Impact Strategy
Toyota partnered with FSG to develop a business-aligned social impact portfolio focused on various aspects of mobility—personal mobility, green…
Creating a Business-Aligned Global Giving Strategy
The General Mills Foundation partnered with FSG to develop new signature initiatives that address social and environmental issues related…
A Step-by-Step Guide for CSR and Corporate Foundation Executives
How to lead change in corporate societal engagement
The Ecosystem of Shared Value
Creating shared value—pursuing financial success in a way that also yields societal benefits—has become an imperative for corporations. But…
A practical toolkit for corporate societal engagement
Innovating for Shared Value
Company leaders recognize that social problems present significant limitations to their operations as well as vast opportunities for growth,…
In 2011, trust in business was plummeting—businesses were perceived to be prospering at the expense of the broader community,…
Building a Globally Connected & Locally Rooted Philanthropic Strategy
How can corporate foundations develop philanthropic strategies that are both globally connected and grounded in local context?
Insights from the Field: What New Reporting Requirements Mean for Corporate Social Impact Leads
ESG is now at the forefront of most corporate social impact teams as U.S. and international regulators are proposing…
Key Insights from FORTUNE Brainstorm Health 2023
FSG Managing Director Nikhil Bumb asks a question during a lunchtime panel at the FORTUNE Brainstorm Health 2023…