Program to Improve Private Early Education (PIPE)
Impact of PIPE's Intervention in the Affordable Private School Market
Children in PIPE affordable private schools (APSs) have been performing better year on year, and have improved by 33 percent since 2018
PIPE annually conducts an independent assessment of affordable private schools using PIPE partner solutions (PIPE APSs) and affordable private schools using no external interventions (Control APSs) using the Scoring Tool for Assessing Readiness at School (STARS). The assessment covers the classroom environment, child learning outcomes, and parent, teacher, and administrator interviews.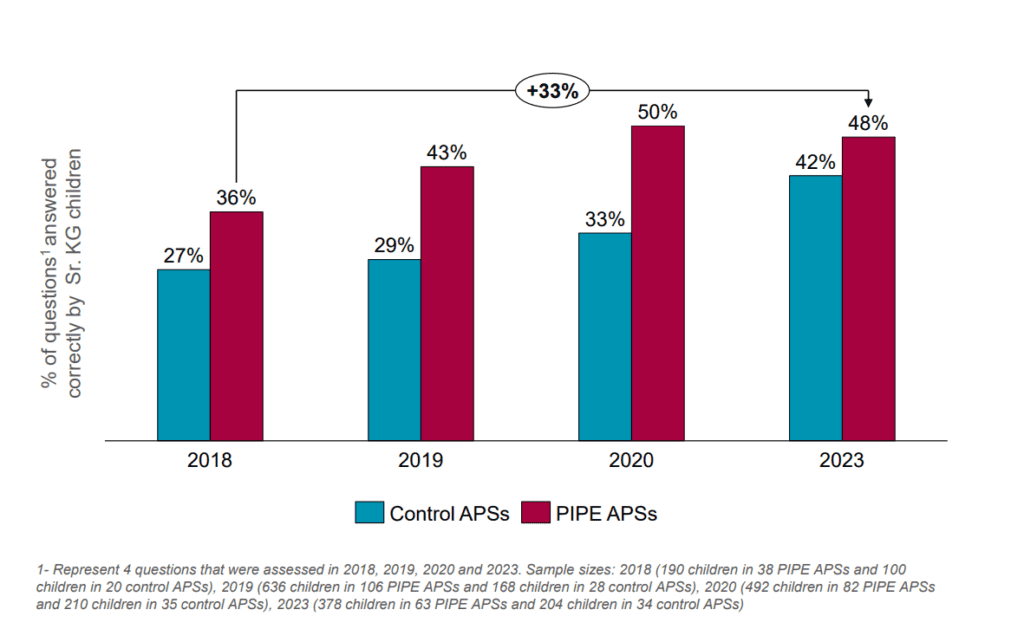 Impact of PIPE's Intervention on Education Quality in APSs Over the Years
[1] Four questions were assessed in 2018, 2019, and 2020: 1). Can you read the word 'PIN'? 2). Can you identify the largest number from a group of numbers? 3). Can you count and give 12 sticks out of 20? 4). Can you name any 6 animals? Sample sizes: PIPE 2018 (190 children), PIPE 2019 (636 children), PIPE 2020 (492 children).
Sign-up to Receive Updates