Program to Improve Private Early Education (PIPE)
Impact Assessment Report 2022-23
Sr. KG children in PIPE APSs scored higher than Sr. KG children in control APSs, while grade 2 children in PIPE APSs scored similar to control APSs
Sr. KG children in PIPE affordable private schools responding correctly to literacy and numeracy questions increased by 33% since 2018
To determine PIPE's impact, an independent assessment of 98 affordable private schools with PIPE partner solutions ('PIPE APSs'), and 38 affordable private schools with no activity-based learning intervention ('Control APSs') was conducted in January and February 2023.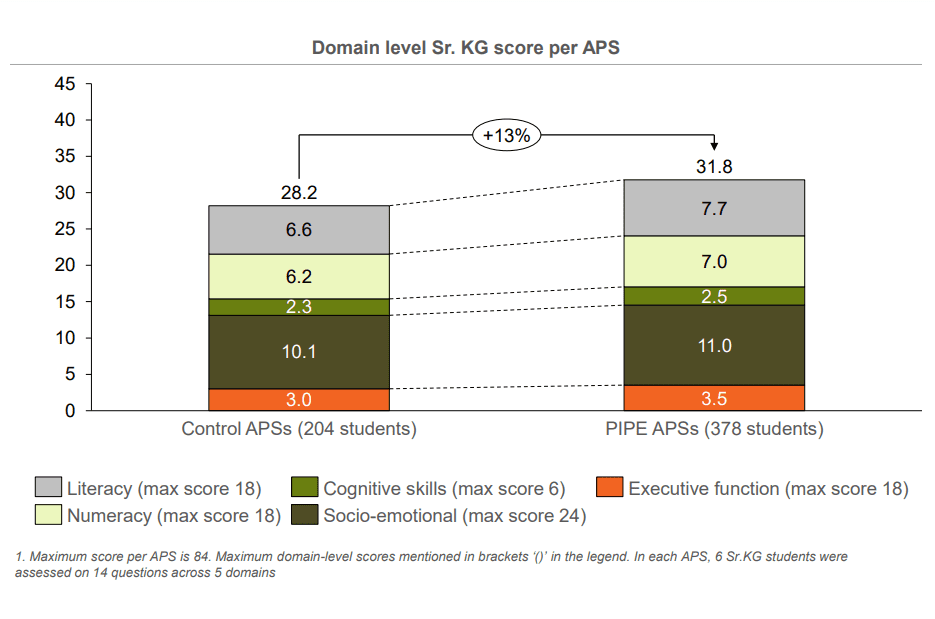 An independent assessment of 958 children in 136 affordable private schools (APSs) was conducted by RSB Insights and Analytics. APSs are schools that typically charge fees of approximately INR 27,200 (~USD 330) per child per annum, and typically provide education up to grade 10. All schools for evaluation were chosen randomly and (i) were private schools that are not government-aided, trust aided or trust-funded; (ii) operate pre-primary to at least grade 5 (ages 3-11); (iii) charge all-inclusive annual fees less than INR 31,300 (~USD 380) per child per annum.
The 136 APSs selected were representative of a typical APS. Control APSs were chosen from the same neighborhoods as PIPE APSs.
To learn more about the results from the assessment click here.
To get a copy of the assessment tool with instructions and supporting materials, click here.
Sign-up to Receive Updates