Program to Improve Private Early Education (PIPE)
Impact Assessment Report 2019-20
Sr. KG children in PIPE APSs score higher than Sr. KG children in control APSs and are improving over the years
Sr. KG children in PIPE affordable private schools responding correctly to literacy and numeracy questions increased by 38% over two years
To determine PIPE's impact, an independent assessment of 116 affordable private schools with PIPE partner solutions ('PIPE APSs') and 35 affordable private schools with no activity based intervention ('Control APSs') was conducted in January 2020.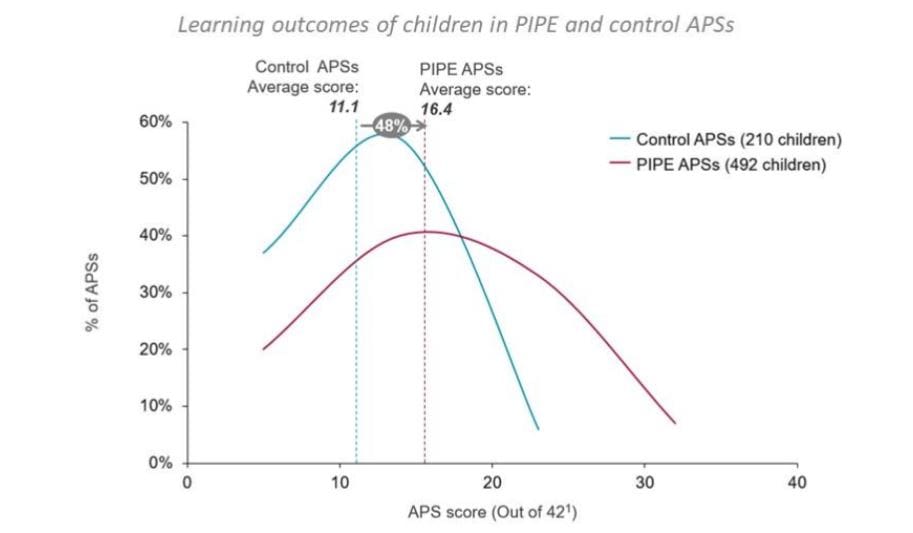 An independent assessment of 1187 children in 151 affordable private schools (APSs) was conducted by Modulus Research. APSs are schools that typically charge fees of approximately INR 24,000 (USD 340) per child per annum, and typically provide education up to grade 10. All schools for evaluation were chosen randomly and (i) were private schools that are not government –aided, trust aided or trust-funded; (ii) operate pre-primary to at least grade 5 (ages 3-11); (iii) charge all-inclusive annual fees less than INR 25,000 (USD 357) per child per annum.
The 151 APSs selected were representative of a typical APS. Control APSs were chosen from the same neighborhoods as PIPE APSs, i.e., within 3-5 km radius. Further, to ensure that school administrators were also representative, we asked them questions2 to understand their awareness on good learning outcomes. Responses across both PIPE and control APSs were similar3 indicating that quality of management across these APSs were similar.
Sr. KG children in PIPE APSs responding correctly to literacy and numeracy questions increased by 38% over the last two years. In 2018, Sr. KG children in PIPE APSs could answer only one third of the questions correctly. Today, Sr. KG children in PIPE APSs can answer half of the same questions correctly
Sr. KG children in PIPE APSs scored 48% higher on learning outcomes as compared to control APSs. Specifically, children in PIPE APSs scored higher on literacy, numeracy and cognitive tasks as compared to control APSs
Sr. KG classroom environment scores within PIPE APSs have improved by 40% over 3+ years of implementation and are 68% higher as compared to control APSs
In schools implementing activity based learning (ABL) for 3+ years, more teachers encourage dialogue in class, introduce new words and engage with children better
Grade 2 children in PIPE APSs scored 27% higher on learning outcomes as compared to control APSs

To learn more about the results from the assessment click here.

To get a copy of the assessment tool with instructions and supporting materials, click here.
[1] In each APS, 6 Sr. KG children were assessed on 7 questions, each –3 in math and 1 each on reading, executive function, spoken English and expressive vocabulary
[2] Administrators were asked "How does a good teacher know if a child is learning in Math/ English?" Good response are non-recall based
[3] Used Scoring Tool for Assessing Readiness at School (STARS), which leverages ECERS 3 for classroom environment; IDELA, and SRI for learning outcomes. The tool also captures stakeholder mindsets changes.
Sign-up to Receive Updates