What images come to mind when you hear the word evaluation? A teacher grading an exam? A dashboard or scorecard with outcomes highlighted in green, yellow, or red to show progress? A logic model mapping a program intervention to its intended outcomes? When asked about evaluation, fewer people tend to conjure images of a room full of people reflecting on and discussing data together. Or think of evaluation spurring an energizing collaborative conversation to visualize what a program hopes to achieve, and the assumptions and external factors that can help or hinder success.
The predominant mental model around evaluation does not account for the variety of evaluation purposes and approaches. And it doesn't highlight the role of evaluation in strengthening collaboration, solving problems, or informing strategic decision-making.
In fact, there are many different ways that organizations get information to make better strategic decisions. Considering the various options around inquiry can help break through people's existing mental models of what evaluation is—or is not.
The graphic below briefly explains the key differences among the most common types of inquiry.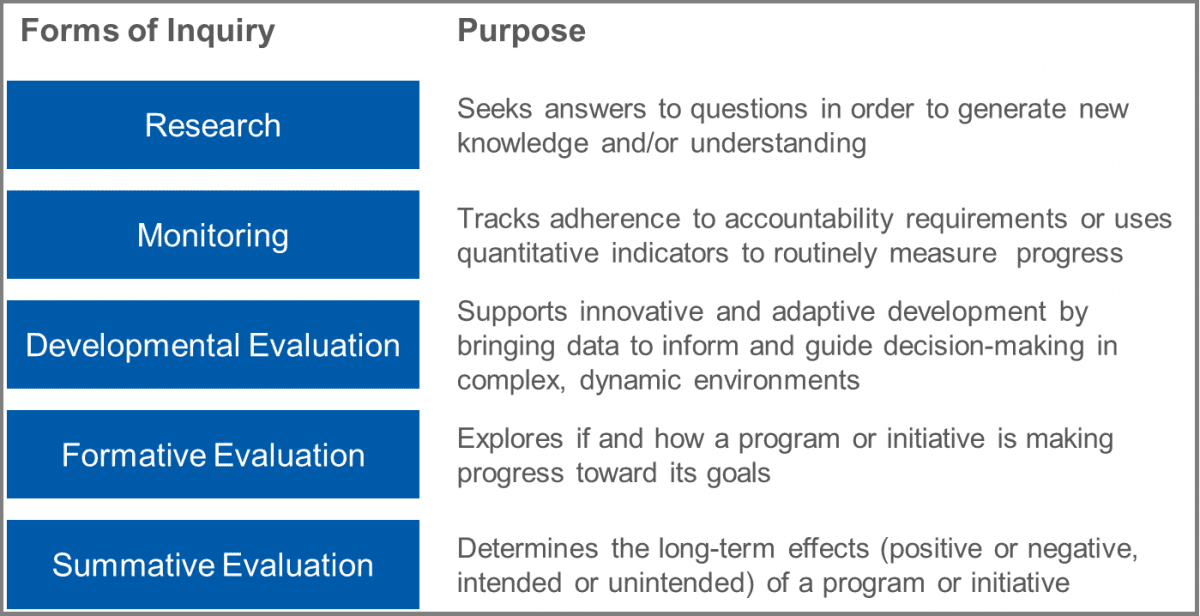 Here are a few examples from FSG's work:
As you are trying to choose among these various options, there are 4 questions that can guide you to the appropriate approach:
What is the purpose of the inquiry?
Who will use the data and information and in what ways?
What question(s) do you want to answer?
At what point in the program or initiative's lifecycle will the inquiry occur (planning, implementation, after its conclusion)?
I hope you find this taxonomy helpful in your own work. If you have additional examples or ways of explaining these terms, please share in the comments section below.
Learn more about FSG's Strategic Learning and Evaluation work >