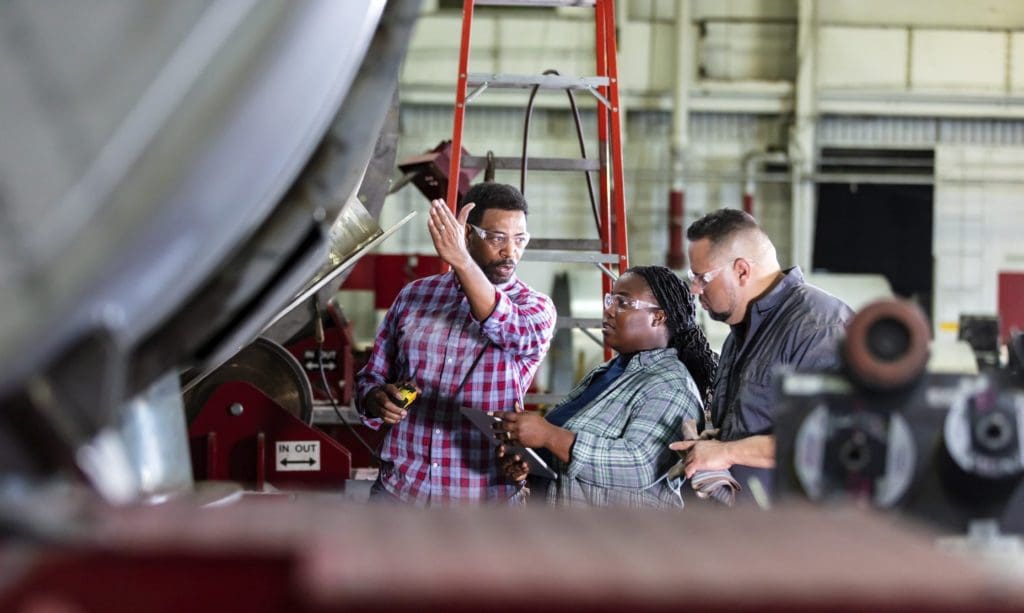 Over the last year, Congress has passed a new wave of federal programs—including the Bipartisan Infrastructure Law, Inflation Reduction Act, and the CHIPS and Science Act—that cumulatively provide a recently unprecedented level of new funding for infrastructure, technology and manufacturing, and clean energy. Many have highlighted that this is a generational opportunity to more equitably grow local economies not only through new jobs and infrastructure, but also through the investments in workforce development and community benefit required by these plans. For example, the Commerce Department announced that all manufacturers receiving CHIPS subsidies must guarantee child care for workers building or operating new semiconductor foundries, and the federal government has made it a goal for 40% of new climate and environmental investments to flow to historically marginalized communities through the Justice40 Initiative.
From local community meeting rooms to corporate board rooms, there is a flurry of conversation about this influx of investment as well as collective worry and uncertainty regarding exactly how these dollars might flow. Despite intentions for this funding to address long-standing inequities and ensure community benefit, communities that are historically excluded from existing civic planning processes are unlikely to reap the benefits of this opportunity under a business as usual approach. As the Sierra Health Foundation highlights, "The size of these investments and timelines for their deployment have placed intense political and social pressure on economic development organizations to quickly ramp up planning activities…History has shown that quick economic development results in limited and inequitable participation."
However, intentionally inclusive collaborative infrastructure can help mitigate these effects. From Roosevelt's New Deal to Obama's American Recovery Act to recent federal COVID-19 relief, communities with strong cross-sector relationships and inclusive civic participation have been able to successfully align on shared priorities and influence the allocation of resources. For example, the city of Milwaukee's COVID-19 Civic Response Team was able to effectively use existing civic "architecture"—including the Greater Milwaukee Foundation's commitment to racial equity and community leadership, an existing cradle to career initiative, and data and project management capacity from the United Way—to meet critical urgent needs at the onset of the pandemic while continuing to make progress toward longer-term systems change.
We are already seeing regional and national initiatives seek to create, activate, and plug into collaborative infrastructure to ensure benefits from these programs are more equitably distributed. The Sierra Health Foundation and several other partners have launched the Community Economic Mobilization Initiative (CEMI) to help grassroots community-based organizations in California proactively prepare to participate in upcoming state and federal funding opportunities. In Central New York, local leaders worked with Micron, the recipient of CHIPS Act tax credits for a new semiconductor facility, to develop a Community Investment Framework for investing in workforce development, education, and community development. National collaborative initiatives Justice40 Accelerator and the Community Builders of Color Coalition are working to ensure that federal climate resources reach Black and historically disinvested communities of color and to build the capacity and readiness of climate and environmental justice organizations to access government funding.
While details are still emerging on how this legislation will ultimately support community economic and workforce development, the key question we're asking ourselves and discussing with partners is how can we collectively get ready to ensure these resources fulfill their potential to advance equity and opportunity? Beyond state and local governments, we are thinking about the roles that three key groups of stakeholders can play to help realize the potential of these programs: Local cross-sector collaboratives and conveners, corporations, and national and regional foundations. Below we share some initial considerations for how these groups can engage.
1. Local cross-sector collaborations and conveners
Many organizations—including regional workforce and economic development groups, existing cross-sector collaborative initiatives, chambers of commerce, and place-based foundations—will be crucial stakeholders in planning for, submitting, and implementing regional development grants, as well as partnering with companies looking to engage with local communities when building or expanding operations.
To ensure that representative perspectives and community voices are centered in planning efforts, it will be important for these actors to connect with other collaborative efforts both within specific cities, towns, or neighborhoods, as well as at the regional level. Without partnership across different groups, there is a risk that larger and more resourced actors will dominate the planning process and community voices will be ignored. Existing strategies and priorities that community collaboratives have identified should be uplifted and built on to ensure that there is a shared community vision for development efforts that is grounded in a comprehensive understanding of community needs, priorities, and assets. In addition to grounding development plans in lived experience (rather than solely data), ensuring community perspectives are centered will likely strengthen the competitiveness of regions' applications given the federal government's focus on advancing equitable outcomes. Finally, actors should consider how they might use these near-term federal funding opportunities to build toward longer-term, systemic impact by practicing the five strategies for embedding equity in collective impact.
2. Companies
Companies in technology, energy, construction, and other industries receiving incentives through this legislation will be required to develop community benefit and/or workforce development strategies that provide opportunity for local job seekers. If executed well, these agreements can help companies build long-term shared value by creating a strong local workforce, increasing regional competitiveness for investment, and strengthening their overall operating context.
Companies should approach community benefit agreements as an opportunity to build sustained community support and trust, not just a compliance exercise. Authentically engaging communities involves a wide range of practices, including developing a deep understanding of the history and context of the place they are operating in and being clear about how they will be accountable to community benefit goals. Companies should also consider how they are providing high-quality jobs and building pathways to long-term economic mobility for employees that will fill the positions they are creating. This may include expanding their definition of "qualified talent," investing in the training needed to help their employees advance, actively engaging with and bolstering local education providers, and providing comprehensive support for employees, including reliable transportation and affordable childcare.
Finally, companies should ensure that the teams developing community benefit agreements extend beyond CSR/Community Affairs and include other key operational stakeholders, including departments such as HR, Government Affairs, and Purchasing. They should cultivate sponsorship and buy-in from senior executives to build necessary strategic alignment and understanding of the business benefits of community benefit strategies and local economic development. Companies who think holistically about these components will help ensure that they continue to attract and retain their local workforce long after these federal dollars are allocated.
3. Funders 
National and regional foundations that focus on issues of racial and climate justice and economic mobility will play an important role in sharing knowledge and lessons learned, filling in gaps where additional capacity is needed, and providing incentives and investments to ensure equity is centered in the planning for and implementation of these dollars.
Funders can invest in collaborative infrastructure both in the communities where they fund and at the national level. This may include directly granting to collective impact initiatives, strengthening community-led intermediaries, being a catalyst for increased local funding, and providing funding to address systemic barriers for the participation of historically marginalized groups. By investing in intermediaries that are both led by and accountable to the communities they support, funders can also support community-based organizations in developing the resources, tools, relationships, and knowledge needed to access funding and influence how federal resources are allocated at the local, state, and national level.
Foundations can also drive shared learning by documenting and sharing lessons from recent federal funding vehicles, such as COVID relief funding and the American Rescue Plan Act (ARPA). They can create spaces for knowledge sharing around these current funding streams across cities, sectors, and foundations. This can help capture and share strategies for leveraging additional sources of capital from banks, investors, and government to ensure federal resources are accessible to low-income communities and communities of color. Finally, foundations can amplify the need to center equity and justice by using their influence to advocate for companies, government agencies, and other actors with power to keep a consistent equity lens when making decisions about how to utilize this federal funding. This can include providing a platform and resources for organizations focused on advocating for economic and environmental justice to voice what they know is necessary for these dollars to drive equitable opportunity.
These are initial considerations informed by our experience in economic mobility, shared value, and opportunity employment, as well as our work forming and supporting collective impact and other place-based initiatives across the country. We look forward to learning alongside partners who are working actively to ensure that this wave of funding has a meaningful impact on advancing equity and opportunity. What other concerns or questions do you have as this federal funding approaches? What other considerations or practices do you think will be important for different stakeholder groups? How are you getting ready?
Let us know by filling in this quick form: