The World Health Organization estimates that, without intervention, road traffic crashes could become the seventh-leading cause of death globally by 2030. In many countries where AB InBev­—the largest beer producer in the world—operates, traffic collisions are a major cause of fatalities, making road safety a pressing issue for its business as well as for society.
In 2013, AB InBev sought to address this critical public health challenge and engaged FSG to develop a global road safety strategy and assist in launching a global coalition.
FSG conducted in-depth research on the scope, scale, and causes of road traffic accidents and fatalities globally. Drawing on this research and interviews with over 40 internal and external stakeholders, FSG developed an intervention matrix that identified a range of potential strategies to improve key elements of the road safety system.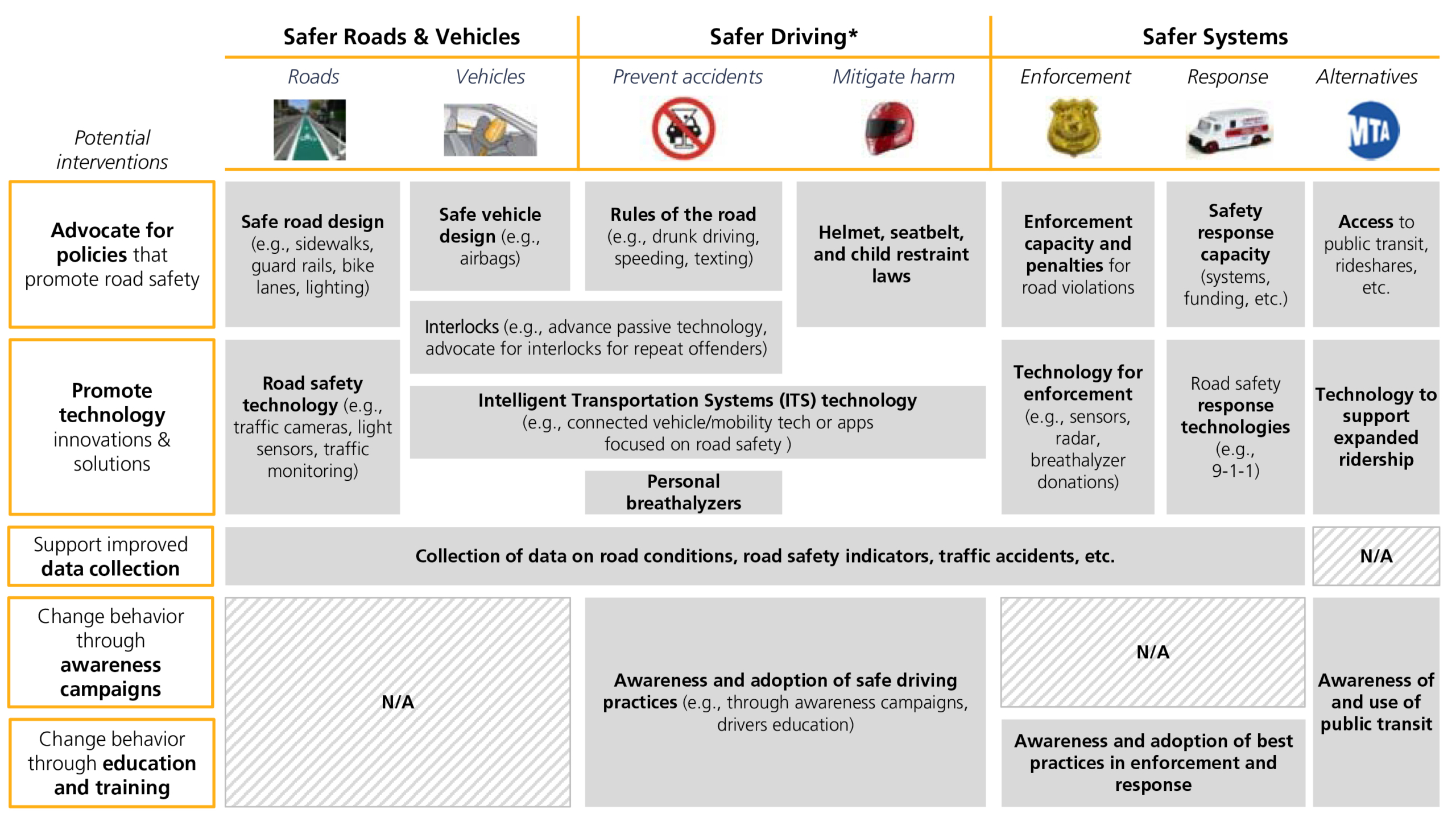 Customized intervention matrix developed by FSG. 
Building a customized intervention matrix provided a structured understanding of the different components of this opportunity area, including safer roads and vehicles, safer driving, and safer systems. This matrix served as a critical tool of the initiative design process, providing an easy one-page depiction of the landscape of choices and serving as a useful communications tool to external stakeholders as well as for internal senior leadership. FSG and the AB InBev team used the intervention matrix to develop a robust road safety strategy and prioritize specific interventions.
Among other efforts, this design process resulted in AB InBev co-developing Together for Safer Roads, a private-sector global road safety coalition that now includes over a dozen multinational companies representing leaders in a range of industries.
FSG worked with AB InBev, 8 partner companies, and 3 bi-lateral organizations to draft the founding vision, mission, goals, and operating structure for the Together for Safer Roads coalition, and helped create working groups for corporate partners, the general public, and global leaders to move the coalition's work forward.
FSG also developed a country-specific road safety strategy for AB InBev's subsidiary in Brazil. This work included conducting a national needs assessment, developing a multi-pronged strategy at the national, state, and local levels, and identifying potential implementation partners.
Today, the coalition organizes its work around informing companies on safer fleets, improving data collection and management related to road safety, and global advocacy and thought leadership on road safety.
About AB InBev
Anheuser-Busch InBev is the world's largest brewer committed to brewing the best beers using natural ingredients.