Strategic Learning & Evaluation
FSG's Strategic Learning & Evaluation practice helps private, community, family, and corporate foundations, and nonprofits understand the progress and impact of their investments and develop the supports needed to continually learn from their work. We employ a variety of approaches, methods, and processes to provide timely, credible, and useful information and frameworks that our partners can act upon to increase effectiveness and impact.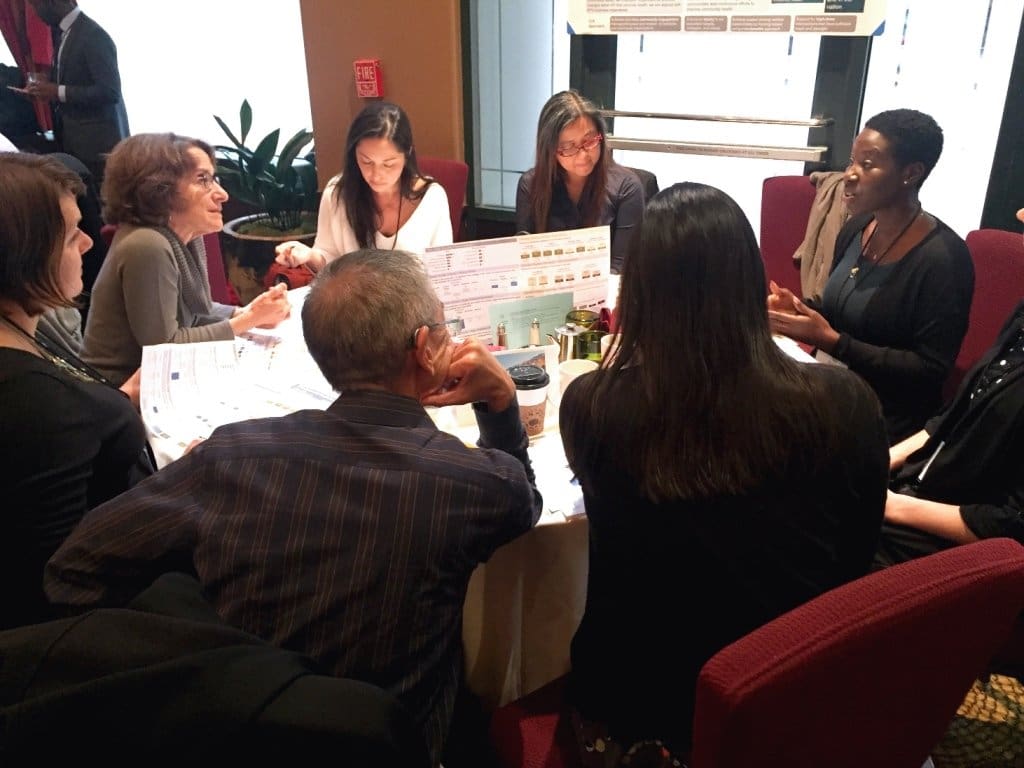 Designing and implementing developmental, formative, and summative evaluations.
Linking strategy and evaluation.
Building staff and grantee evaluation capacity.
Developing learning and evaluation systems.
Designing and facilitating organizational learning processes, practices, and structures, and facilitating learning cohorts.
Acting as a learning partner to help organizations develop collect and make sense of a wide range of data.
Providing training, webinars, coaching, and technical assistance to build evaluation capacity of internal and external stakeholders, including grantees.
We promote stakeholder engagement: We believe that the best approach to evaluation is participatory, learning-oriented, and is timely and relevant to your work. This approach extends to those the foundation wishes to serve, whose voices, needs, and perspectives inform our work.
We are committed to equity: We honor the different cultures, values, and contexts in which our clients and their beneficiaries live. We design and implement evaluations in service of equity.
We thrive in emergent and complex environments: We have developed evaluation tools and processes that allow us to provide useful support in complex environments where strategies are emergent. We continuously monitor the field for best practices and additional resources to include in our work.
We value partnership: We view our work as a deep partnership to help you achieve your goals. Our approach is to help you understand what you need to know and to spark individual, group, and organizational learning.
We are dedicated to building the field: We are committed to advancing the practice of learning and evaluation by developing new tools, webinars, white papers, guides, and training materials that support effective strategy and evaluation.
The Evolution of Strategic Learning & Evaluation at FSG
Though FSG initially focused on bringing the analytic rigor of strategy consulting to philanthropy, it soon became clear that strategy alone wouldn't produce the social impact our clients hoped to achieve.
Our early work with foundations taught us that strategy and evaluation are inextricably linked—strategy establishes the boundaries for evaluation, while evaluation guides the development and refinement of strategy.
In 2006, we led a year-long research effort and wrote From Insight to Action: New Directions in Foundation Evaluation, which sought to demystify evaluation for philanthropy. The report generated a great deal of interest in FSG's evaluation services, and in response we began to build a world-class strategic learning and evaluation team.
Today, the team has completed over 200 evaluation projects to date, and has produced over 30 publications, tools, and resources, which have been downloaded more than 50,000 times. Our work is often cited in the evaluation and social sector fields. We regularly present at conferences sponsored by American Evaluation Association, Grantmakers for Effective Organizations, Grantmakers in Health, and Council on Foundations.
Supporting Learning and Evaluation for Latino Student Success
FSG worked with Lumina Foundation to evaluate and strengthen the impact of the Foundation's $12 million investment to support…
Evaluating Investments for Substance Use Prevention and Treatment
FSG conducted an evaluation of the Robert Wood Johnson Foundation's $700 million investment in substance use prevention and treatment,…
Supporting Learning and Evaluation
FSG worked collaboratively with The Kresge Foundation Program and Social Investment Practice departments to develop strategic learning and evaluation…
Becoming a Learning Organization
FSG worked with Kaiser Permanente Community Health on building a system to support strategic learning and evaluation.
Engaging Boards and Trustees in Strategic Learning
Facilitating Intentional Group Learning
A Practical Guide to 21 Learning Activities
Propositions for Improving Practice
Guide to Evaluating Collective Impact
A practical handbook that presents a framework for approaching evaluation and includes sample questions, outcomes, and indicators.
Building a Strategic Learning and Evaluation System for Your Organization
The call for evaluation has grown louder in the field of philanthropy. There is a need for a deeper understanding…
Evaluating Social Innovation
Mayur Patel, former VP of strategy and assessment at Knight Foundation, discusses working with FSG on a developmental evaluation…
Big Sky Thinking: A Look at How the Headwaters Foundation Centered Trust in Their Evaluation and Learning Practices
Rethinking Outcomes in a Crisis Context
 In this critical time, and with a sense of urgency, many philanthropic organizations are shifting the ways in which…
Learning in a Time of Crisis
 Many philanthropic organizations are responding to the COVID-19 pandemic by developing rapid-response funding mechanisms, resources, and revised grant policie…
How Do You Evaluate Systems Change? A Place to Start.
Systems change has received much attention in recent years as grantmakers have increasingly set out to change underlying conditions…
How Evaluation Supports Systems Change
Over the past few years, we've supported a growing number of foundations in adopting a systems change approach to…
Four Ways to Incorporate a Gender Lens in Your Measurement and Evaluation Efforts
Across the social sector, we have seen growing interest in bringing a gender lens to social change—from foundations and…