Companies are uniquely positioned to drive change around social norms by using their brand credibility, marketing expertise, reach, and access to key influencers, among other assets. Companies can create significant, lasting social change by shifting harmful social norms. But why should companies invest in changing social norms, and what are the practical steps to starting this process?
What are social norms?
Social norms: the rules of behavior that are considered acceptable in a group or society. This includes what is expected of you and what you think is expected of you by your community or a particular group.
Let's first take a step back and explore social norms in practice. Below includes 2 different laundry detergent ads. What makes them different?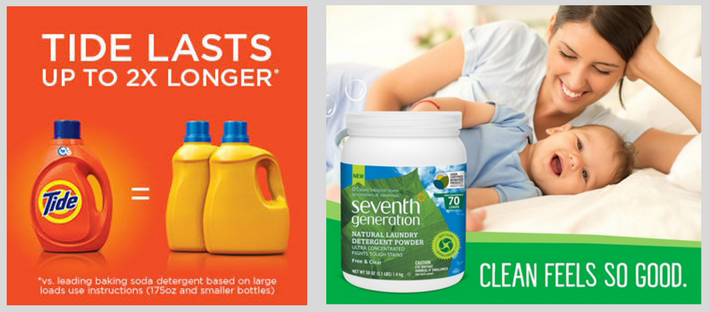 The first ad provides factual, functional information about a product. The other taps into a well-known norm that women, particularly mothers, are responsible for laundry. While laundry might seem like a small thing, it underlies broader social norms around women's place in society that advertising often plays into.
But what happens when a company calls attention to the social norms attached to their product? Last year, Ariel, one of Procter & Gamble's India-based detergent brands, launched a new ad campaign called "Share the Load."
The powerful ad, which asked, "Why is laundry only a mother's job?" went viral in India, quickly receiving almost 3 million views. The ad not only sparked an important conversation in India about men and women's roles at home—millions of men in India pledged to #SharetheLoad on social media—it drove a 60 percent increase in sales and a 132 percent increase in brand awareness for Ariel.
Why should companies invest in shifting social norms?
As this campaign illustrates, companies can not only contribute to positive social change by shifting harmful social norms, they also gain a competitive advantage through differentiation and greater brand awareness.
At the 2017 Shared Value Leadership Summit, we had the opportunity to learn from leaders at Novo Nordisk, ABInBev, and ActionSprout about why these organizations are focused on social norms, and gain insight into practical tools for understanding and shifting norms to drive better business and social outcomes.
Novo Nordisk, known for its work in diabetes care, has expanded its focus to include a long-term, sustainable commitment to obesity treatment and prevention. Obesity is a chronic, progressive disease that affects 1 in 3 adults in the U.S. The company has an industry-leading obesity pipeline in development to help those living with excess weight or obesity achieve meaningful and sustainable weight loss, but it recognizes that the bias and stigma which surround obesity today will hinder the effectiveness and adoption of any medical treatment option. To combat this stigma, Novo Nordisk is partnering with the broad community on education and advocacy, increasing access to care, and advancing medical management. Changing the social norms around obesity will ensure that patients can and do seek out treatment, and more healthcare providers offer affordable, evidence-based, medical care for the disease of obesity, both improving the lives of people living with obesity and creating a stronger market for Novo Nordisk's products.
ABInBev, the largest beer producer in the world, has supported many approaches to curbing harmful drinking over the years. Scott Ratzan, MD, MPA, MA joined the company as Vice President in Corporate Affairs in 2013 and recently transitioned to the role of President of the new ABInBev Foundation. He brought a public health lens to the role that sought to take an evidence informed harm reduction approach to the company's efforts.
In 2013, FSG worked with Scott and his team at ABInBev to do a thorough review of the literature and determined that social norms play an outsized role in many harmful drinking situations, particularly in the decision of youth to binge drink. Programs like AlcoholEdu have shifted social norms at individual universities—in one evaluation at Stanford University, 41 percent of students said the program led them to behave more responsibly with alcohol—signaling to ABInBev that there was a new approach to consider.
Based on the strength of the evidence around the role of social norms in individual decision making, the company committed $1B to influence social norms and individual behaviors to reduce harmful alcohol use between 2016 and 2025. The company is working with various experts around the world to design the content and programming that will roll out across their markets, tailored to address the context-specific norms that are key to decreasing harmful drinking.
How can organizations start to shift social norms?
Changing social norms requires a mix of approaches such as advocacy efforts and media campaigns that work together to reinforce an overall message. Utilizing digital tools is one of many ways companies interested in developing a social norms strategy can begin to better understand the conversations and social norms related to their products. Social media, in particular, can help organizations understand norms and how they spread, identify what effective messaging that influences norms looks like, and design communications to create new norms or counter discriminatory norms.
Drew Bernard is the founder and CEO of ActionSprout, a company that helps causes better utilize Facebook to accomplish mission objectives. He discussed how Facebook and UNICEF partnered to gather anonymized data from the platform to drive a more effective response to the Zika outbreak in Brazil. Through available Facebook data, ActionSprout surfaced insights about the audience that was spreading information about Zika. They also looked at the content that this audience viewed as most valuable to share with friends and family members.
ActionSprout was able to identify key influencers that UNICEF's target audience followed and trusted. UNICEF then used these insights to tailor and target messaging to reach the audience at greatest risk of Zika and their influencers, who used the content to help their loved ones protect themselves from Zika. Eighty-two percent of Brazilians who were exposed to the data-informed content on Facebook reported that they intended to take action to protect themselves and their loved ones from Zika—a 3 percent increase over people who were not exposed to the content.
Social norms are complex and challenging to identify and change. Actors in the international development field are increasingly recognizing the important role that social norms play in driving poor health, education and economic outcomes, especially for disadvantaged groups. Companies have a rich toolset to help address harmful social norms, and we appreciated learning how leading companies like Novo Nordisk and ABInBev are taking a social norms lens to their work during the Shared Value Summit.  This is an emerging field of practice and we are interested in learning from and sharing examples of other companies engaged in this work. If your company has a social norms story, reach out to Laura Herman.