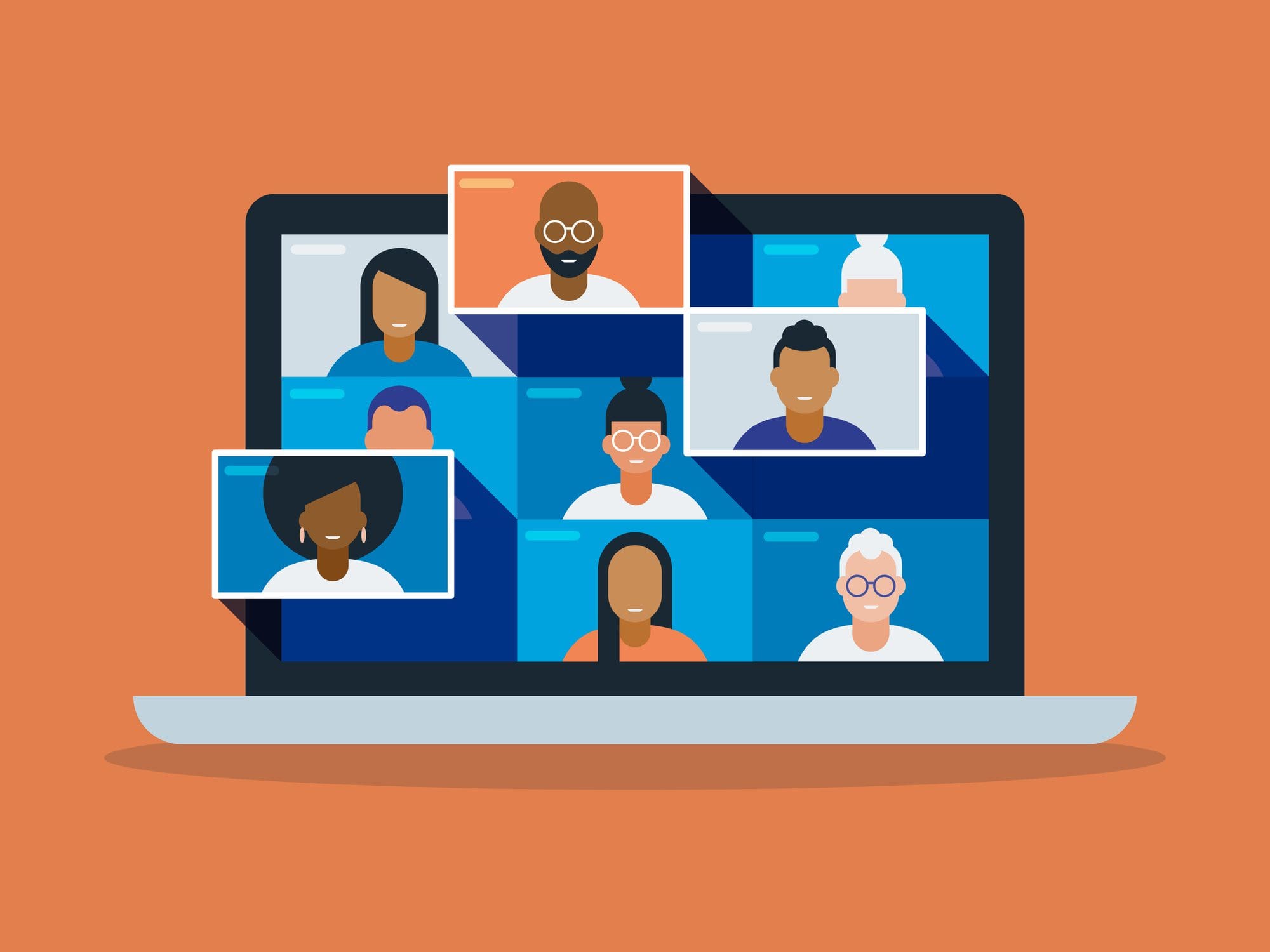 Facilitating inclusive meetings is a vital skill that can transform ordinary gatherings into effective and empowering experiences for everyone involved. Especially when working toward social change, fostering inclusive spaces is essential to ensure that the voices, perspectives, and needs of all individuals are acknowledged and actively included—particularly for voices that are often left out of the decision-making process. By promoting equitable participation, inclusive facilitation cultivates richer conversations and increased collaboration resulting in more effective and comprehensive solutions to advance social impact work.
From strategy workshops to board meetings to focus groups with community members, FSG has collectively facilitated hundreds of virtual meetings. With so many gifted facilitators across the organization, we asked individuals across FSG to share their recommendations for building spaces that foster active participation, nurture collaboration, and drive impactful results. This piece shares insights for inclusive facilitation for before, during, and after a meeting.
Before the Meeting:
Determine the purpose and desired outcomes for the meeting.
The most important step to planning out any meeting is defining its purpose. Are you looking to generate new ideas, solve a problem, or make a collective decision? Once you have a clear understanding of why the meeting is necessary, you can identify the desired outcomes you aim to achieve by the end of the meeting. One common problem many facilitators encounter is trying to do too much in one session—collecting too much data, moving through too much content, and asking too many questions. Instead, we suggest keeping the purpose of the meeting simple and limiting the number of objectives to ensure clarity and effectiveness. As a facilitator, this will help you guide the conversation while simultaneously ensuring that the meeting is an effective use of everyone's time.
Clarify roles and responsibilities in the meeting.
Although you can try to do it all, it is difficult to effectively run every aspect of a meeting. If you can distribute responsibilities, ask fellow team members to keep time, take notes, and in virtual settings, consider having someone who is solely focused on screen sharing and other technical logistics. Try to play to your strengths when possible. As a facilitator, it is your role to lead the group toward shared objectives and ensure that all participants are included in the conversation. To do so, consider applying appreciative inquiry to help participants build upon existing strengths to address challenges and achieve meeting objectives. This approach promotes active participation, stimulates critical thinking, and fosters a shared sense of ownership over outcomes.
Consider accessibility and inclusion in all forms.
Virtual meetings have the potential to increase accessibility across geographic boundaries, but addressing barriers to accessibility is crucial to fostering inclusive environments that enable collective collaboration. "There are so many angles to consider and what might feel like a small detail for one person may become a major blocker for someone else to participate or attend," says Tracy Timmons-Gray, associate director at the Collective Impact Forum, "so a lot goes into assessing whom you need to have at the meeting for it to be successful in its purpose, and from there assessing how to best support their needs in being able to participate in that space."
For starters, it is important to consider participants' access to meeting links (e.g., providing clear instructions, considering time zones, maintaining confidentiality and security) and how the meeting is being both documented and distributed to those who are unable to attend. Enabling live transcription or closed captioning on meeting platforms (even if it isn't perfect) is another great way to increase accessibility. Other factors include but are not limited to: document formatting (e.g., PDFs with proper tagging, language translation, and interpretation services), assistive technologies (e.g., screen readers or speech recognition software), lighting and visual considerations (e.g., using high contrast colors, avoiding busy backgrounds, using large and legible fonts), keyboard accessibility and collaboration tools, and proper training for technical support.
Anticipate challenges and consider the degree of potentially divisive issues.
Diverging viewpoints are an inevitable part of any meeting, and as a facilitator, it is essential to go beyond simply guiding discussions to proactively anticipating obstacles and preparing for how to best address them. Rather than shying away from conflict, it is important for facilitators to surface tensions while ensuring that participants feel respected throughout the meeting. You can use active listening skills, questions, or observations to point groups in a particular direction or choose to step away and see what emerges from the group—it is up to you to decide how heavy or light-handed you want to be! It can also be helpful to decide ahead of time how to address participant comments that may be hurtful to others in the meeting, regardless of if they are intentional or not. This fosters a healthy environment by encouraging open dialogue and ensuring that everyone feels valued and heard.
To further mitigate conflict within a meeting, be upfront and clarify what the discussion is and is not going to include or influence. "Sometimes, unless it's explicit, folks can be under false impressions of what can or will be acted on," says Zarana Sanghani, associate director at FSG. She notes that "Admitting limitations or sharing what decisions are already being made can build trust and make it clear where there is room for change and where there is not." For external meetings, she recommends scheduling a pre-meeting with 1-2 members representative of critical stakeholders you expect to attend the meeting. She goes on to say that pre-meetings are a "chance to build trust by offering some safe space for folks to raise up concerns, tensions, aspirations, and needs. This will help you understand unique and historic power dynamics that sometimes just can't be managed away in a larger group."
Send out an agenda with a clear meeting structure.
Clarity fosters productivity, and a well-structured agenda acts as a roadmap to guide productive conversations. Sharing a detailed agenda with a clear meeting structure ahead of time helps participants prepare for the meeting by providing clarity on its purpose, previewing topics of conversation, and allowing folks to review materials and formulate thoughts ahead of time so that they come to meetings ready to engage in meaningful conversations. This maximizes the productivity and effectiveness of a meeting by setting the stage for a more focused discussion, increased engagement, and successful outcomes.
As a facilitator, it is important to determine what information and context are needed to create an interactive meeting agenda. Make sure to have a clear purpose and a limited set of meeting objectives, determine and sequence the meeting's components or topics of conversation, define time allocations and account for breaks, and finally, make sure to include necessary supporting materials such as pre-reads, slide decks, animating questions, and other relevant materials. Ideally, aim to send the agenda 24-48 hours ahead of time to provide participants with sufficient time to review and prepare for the meeting.
During the Meeting:
Create a warm and welcoming environment.
First impressions are very important, and the kind of environment you create at the start of a meeting can make the difference between a stale conversation and a dynamic one. To create an environment that puts your participants at ease, consider adding music or visuals as folks are logging on. Encourage participants to be engaged and avoid multi-tasking from the start through interactive activities such as introductions, icebreakers, or fun check-in questions that energize participants.
Establish the meeting's structure and agree to a set of group norms.
Even if you've shared the agenda with participants ahead of time, it is important to take a few minutes at the start of each meeting to review its structure and agree to a set of group norms. By establishing a set of shared expectations and guidelines for behavior, group norms make the implicit explicit and set the tone for meetings by encouraging effective collaboration and participation.
Be clear on how you expect folks to engage.
Before engaging in an activity or discussion, it is important to make sure that all participants are on the same page as to what is expected of them in terms of contributions and social energy. "Make sure directions are clear and concise, and that the outcomes are explicit so that people don't spend too much time figuring out what to do," says Scotland Nash, associate director at Talent Rewire. To increase engagement, it can be helpful to give participants explicit deliverables, particularly when it comes to small group discussions, or to frame participants as facilitators to increase a shared sense of ownership.
Embrace diverse learning styles and incorporate varying mediums of participation.
When it comes to learning, it is important to note that humans are not one-size-fits-all, and what works for one person may not work for another. To unlock the full potential of a group, meetings should be tailored to meet a variety of needs and learning styles by integrating different ways for folks to contribute. For visual learners, it may be helpful to include charts, illustrations, and other visual aids; kinesthetic learners may appreciate more hands-on activities; auditory learners may find greater benefit in group discussions.
It is also important to consider the value of varying engagement styles and how they contribute to achieving meeting objectives. For example, paired conversations can be used to foster a sense of connection or focus between two individuals, while small group discussions are helpful in promoting collaboration and diverse perspectives in a low-stakes environment, compared to large group discussions which can be effective in drawing out overarching themes and gathering input to make decisions across a broad range of participants. In virtual settings, consider offering various methods of interaction such as polls or the chat box or using external applications conducive to collaborative brainstorming and ideation (e.g., Miro, Idea Board, Jamboard, and Mural).
Make explicit connections to how the learning is relevant.
Adults learn best when activities are based on experience and have immediate relevance to their lives. As such, it is important to create time and space for personal or real-work applications to promote engagement and retention. John Harper, managing director at FSG, notes that it is the facilitator's responsibility to connect those dots, and help participants easily answer the question "Why should I care about what I'm learning and how is it relevant?"
After the Meeting:
Don't skip closing activities.
Once you recap key points, it is important to end every meeting with a clear action step or takeaway. This helps reinforce important information and ensures that everyone is on the same page. Create space for any last-minute questions or clarifications, and don't forget to thank attendees for their contributions and participation.
Be mindful of people's time and end the meeting on time.
Virtual meeting fatigue is real, and when meetings drag on past their anticipated end time, participants lose focus and momentum. Adhering to a hard stop time shows participants that you respect their time, and as such, it maximizes the effectiveness of meeting outcomes by increasing the likelihood that participants stay engaged and focused until the very end of the meeting.
Coordinate any follow-ups and next steps by participants.
To keep the momentum going after a meeting, it is important to follow up on action commitments and clearly outline the next steps. This can include sharing materials, notes, and if necessary, scheduling additional time(s) to meet.
Provide ample opportunity for feedback.
Lastly, when closing a meeting, provide ample opportunity for feedback on what is working and what is not through channels such as exit tickets, anonymous surveys, post-session debriefs, or emails. You can ask participants to provide feedback on agenda items, structure, facilitation style, or any other aspects participants may wish to comment on. Collecting and responding to feedback demonstrates to participants that their opinions matter and provides a valuable basis for addressing concerns and improving future meetings.
---
Inclusivity plays a pivotal role in driving equitable and sustainable social change. By actively considering and addressing the diverse needs of participants, inclusive facilitation practices create an environment where all participants feel heard and valued. Whether it be team meetings, client calls, or community engagement initiatives, embracing inclusivity builds trust, fosters collaboration, and empowers individuals to take collective action toward a more equitable world. If you have any questions about applying inclusive practices in your work, please reach out to us using the form below.
This article was written by Ziri-Canela Morales, edited by Karen Mac, and developed through the contributions and input of: Alex Caldwell, Caitlin Darisse, Chirlie Felix, Courtney Robertson, Joelle Cook, John Harper, Karen Mac, Miya Cain, Scotland Nash, Susan Lin, Tracy Timmons-Gray, and Zarana Sanghani.
Additional Resources:
Contact Us:
Please fill out this quick form to email the authors:
---