Many of the world's leading companies are adopting strategies that have shared value at their center.  These companies recognize that there are opportunities to increase competitiveness and profitability by solving social problems. As is the case with all business, shared value strategies are only successful when companies make clear choices about where and how to focus their efforts. Successful shared value strategies need to have a logical and explicit argument about how helping to solve a social problem will drive growth, lower costs, or increase competitiveness.
But shared value success requires more than great strategy.  Companies cannot successfully implement their most promising shared value ideas, unless they have leaders and employees who believe in the strategy and are committed changing practices that stand in the way of realizing shared value. In other words, the best shared value strategies will fail if companies do not have a shared value culture.
In "The Leader's Guide to Corporate Culture," Groysberg, Lee, Price, and Cheng write
Culture is the tacit social order of an organization:  It shapes attitudes and behaviors … Cultural norms define what is encouraged, discouraged, accepted, or rejected within a group. When properly aligned with personal values, drives, and needs, culture can unleash tremendous amounts of energy toward a shared purpose …
What kind of company culture is inclined to unleash the energy required to create shared value?  There are many beliefs, attitudes, and behaviors we can point to, but based on more than a decade of advising corporate clients on shared value strategies, here are a few that we think are critical.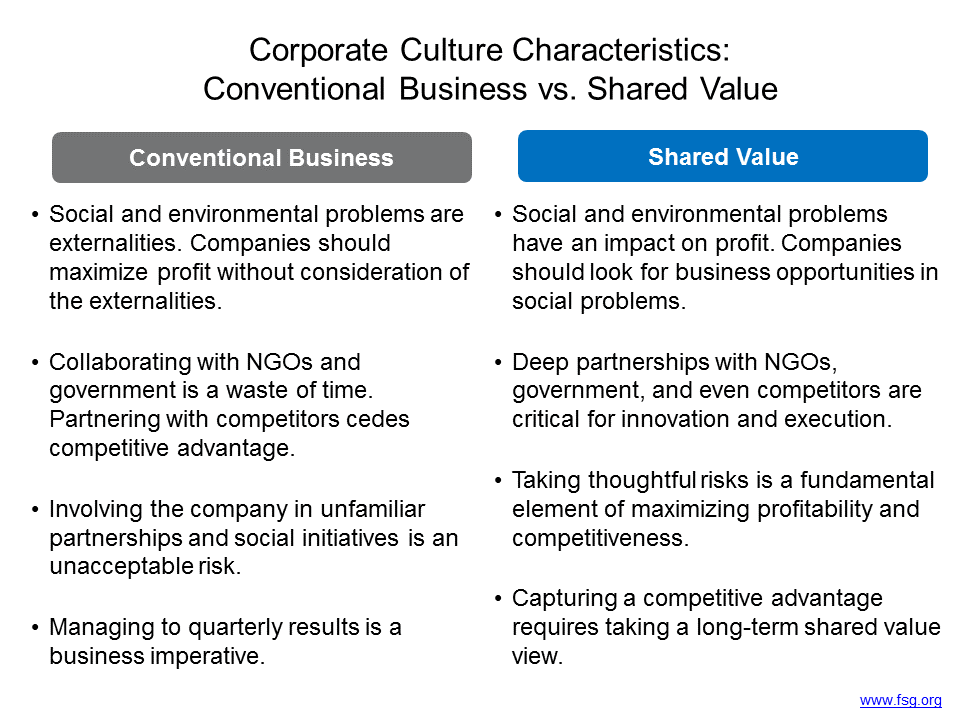 Fibria, a Brazilian forestry company that has recently merged with Suzano, is a great example of a company that recognizes that social and environmental challenges are inextricably tied to profitability. At Fibria, no one questions the argument that the company must deeply engage with the communities near its eucalyptus plantations or its wood pulp factories. The core belief in "lucro admirado" (admired profit) articulated by the longtime Fibria CEO has long driven company strategy and investments. Fibria recognized that it could help address the challenge of income diversification among smallholders and local businesses by providing technical assistance and investing in developing a strong network of local suppliers. Their programs save Fibria tens of millions of dollars annually.
Humana, an American health insurance company, has committed itself to a "Bold Goal" of improving the health of its communities by 20 percent by the year 2020. This is a shared value strategy, because improving the health of its communities also lowers cost of care for Humana.  Successful execution of the Bold Goal strategy requires extensive partnerships and Human has cultivated a company culture that encourages deep partnerships in its communities. Partnerships with NGOs like Feed South Florida in Broward County, Florida and innovative companies like Papa that assists older adults with transportation, companionship, and other senior services help address some of the social determinants of health that stand in the way of Humana members living healthier lives.
It is extremely difficult to mold a company culture.  Much of it is not visible, as it resides in mental models that are shaped by years of a company's history and performance. But if a company aspires to build a shared value strategy, it must make culture a priority.  Here are a few ideas for strengthening your company's shared value culture:
Objectively assess existing culture and identify gaps between your current culture and your aspirations.  Be mindful of subcultures that may exist in specific functions or geographies.  Take note:  are your leaders ambitious about building deep partnerships?  Do your managers recognize and explore the links between your business and the societal problems that surround your company?
Use performance management to encourage employees and leaders to embrace shared value. Make sure that your company systems support and reward your shared value aspirations.
Identify and promote leaders who embody the shared value culture. You can't expect to develop a shared value culture if your employees see that you are promoting the manager who exclusively focuses on short-term results and ignores the societal issues that can affect the long-term competitiveness of the company.
Find and cultivate champions who are influential and can encourage a culture shift.  Create a structure that catalyzes dialogue across the organization about the relevance of social and environmental challenges and the ways these issues intersect with your business.
In our work with clients and supporting practitioners through the shared value initiative, we strive to elevate practices that work best, while acknowledging that each company's culture is a unique and critical piece to realizing shared value.
Learn more about FSG's shared value services >