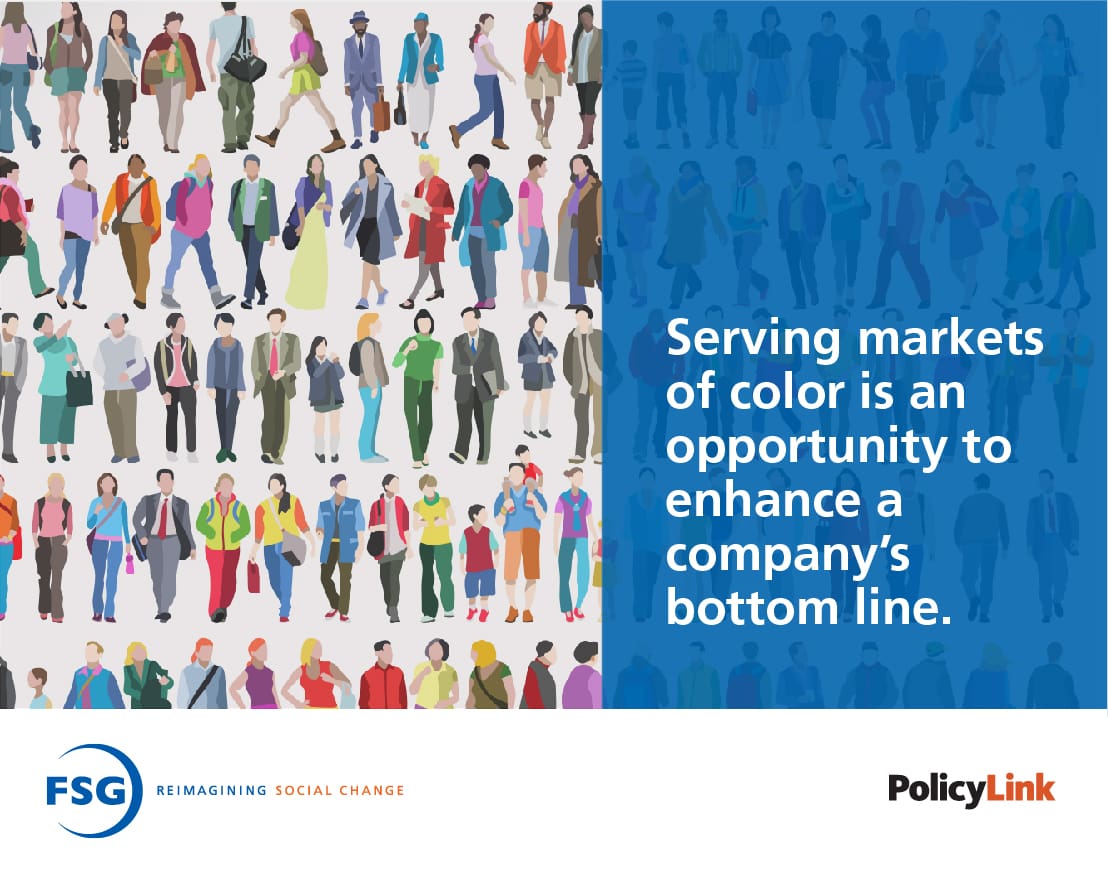 As businesses across the nation vie to increase revenue and market share, they are seeking not only to retain customers but also to continually expand into new markets. Much has been written about the demographic change engulfing the American market: by 2045, a majority of people in the U.S. will be of color; indeed, a majority of young people in the country are already of color.
However, a majority of people of color in the United States suffer worse socioeconomic outcomes in most aspects of their lives—health, education, career, access to financial services, or experiences with the criminal justice system—than their White counterparts. If status quo remains, and a majority of corporate stakeholders such as customers, employees, and suppliers continue to experience racial inequities, then businesses will suffer from a less productive workforce, missed market segments and fewer suppliers from which to choose.
With these realities in mind, in 2017, PolicyLink and FSG wrote a report called The Competitive Advantage of Racial Equity.  The research in the report highlights examples of companies that have gained a competitive advantage by advancing racial equity. We found that by ignoring the nation's changing demographics, companies may find their growth curtailed and their global competitiveness undermined. Our research led us to explore specific steps business leaders can take to future-proof their businesses by addressing these inequities. With support from the Robert Wood Johnson Foundation, FSG and PolicyLink examined two industries where racial inequities are most severe—health care and financial services—to explore how companies in these sectors are advancing racial equity in ways that create business value.
Although these industries are vastly different, our research found 5 action-steps and 3 internal catalysts that are applicable to any industry and that must be adopted by business leaders who want to remain competitive. Here, we share examples from our research on the healthcare and financial services sectors in addition to highlighting opportunities for companies in other sectors. As the business world begins to adopt a racial equity point of view, we are inspired by bold innovations that are emerging across sectors and markets.
Companies must offer products or services that effectively meet the distinctive needs of markets of color. To enable that, companies need to:  
1. Authentically understand the needs of markets of color. Markets of color may not always have the same needs as majority-White markets. Yet, the data on needs or consumer behavior for people of color are not always readily available. Companies can conduct in-house research on these markets or seek help from unconventional sources outside the for-profit world. For example, Prudential Financial, a Fortune 500 company that provides financial products and services including retirement-related investments, commissioned research with UnidosUS, a non-profit that deeply understands and serves Hispanic communities, and captured behavioral insights on the community's usage of retirement services. This information served as a critical input to Prudential's business units that aim to expand its retirement service offerings.
2. Get to the root cause. America's history of slavery and ongoing structural racism has led to lower incomes, lower levels of wealth, and poorer health outcomes among people of color compared to their White counterparts. Recognizing and understanding this fact is essential to ensure that companies don't mistakenly attribute inequities to individual behavior. It is also essential to spark business innovation and avoid unintended negative consequences. Let us take for example the impact of structural racism on access to transportation. There is significant evidence that America's transportation system has historically bypassed communities of color. In our research, we found that Kaiser Permanente, an integrated health care provider, teamed up with a car-sharing service to bring members to their appointments when they could not afford the cost of transportation to their diabetes management appointments.
The same phenomenon of differential access to transportation could also affect companies in other industries. For example, in 2016, an analysis by Bloomberg found that in some of the largest cities where Amazon's same-day delivery service is available, it bypasses ZIP codes that are predominantly Black. Amazon uses many factors to determine which ZIP codes are ripe for its same day service, including the distance to the nearest fulfillment center, local demand in an area, as well as the ability of various carrier partners to deliver up to 9:00 pm every single day. The underlying algorithm, however, perhaps did not consider how communities of color historically lack equal access to transportation, and inadvertently, Amazon denied those ZIP codes same-day service. Since the publication of the Bloomberg report, Amazon made a decision to expand the coverage. Being race-blind limits access for communities, and potential profits for Amazon's business, since these neighborhoods often lack access to groceries and other retail stores, which could be a potential source of revenue for the company.
3. (Re)design products and services to meet discrete needs. People of color suffer from the effects of structural racism, starting with their level of wealth or access to healthy foods. Providing differentiated products and services to solve for these discrete needs can help address these inequities and enable companies to enter new markets. ShopRite operator Brown's Super Stores found a profitable market expansion opportunity by establishing grocery stores to reach lower-income people of color in Philadelphia-area food deserts. The company offered customized food items and expanded its offerings to include complementary services that were lacking, such as health clinics. The company's 7 stores generate strong profits of $250 million in revenues and serve 250,000 people.
Companies should work to reverse the effects of structural racism by strengthening the external business context – thus enabling their future growth. To do that, companies must undertake the following steps:
4. Address public policy failures: While some federal policies improve conditions for people of color, others affect people of color negatively and constrain business growth. Prudential's research with UnidosUS, described above, found that state regulations discourage small businesses from offering retirement savings plans to their employees, limiting those employees from participating in Prudential's pension investment services. This disproportionately affects communities of color because a majority of employees of color work for small businesses. Prudential used its lobbying arm to work with coalitions that expanded retirement savings to employees of small businesses, thus opening up its access to an expanded pool of assets for management.
5. (Re)build trust and shift norms: Due to historical and modern-day discrimination against Black and Latinx communities, many communities of color are less trusting of businesses – this is particularly true of banks and health care institutions. For banks, this can be costly, as it may limit the size of their total addressable market and for health care institutions, it may mean patients of color are less likely to seek treatment or participate it important R&D, further exacerbating inequities. Companies need to understand, acknowledge, and rebuild relationships and trust with communities of color in order to serve these communities. Racialized norms in society can also cause unintended consequences; shifting those norms requires intentionality. In 2016, the hashtag #AirbnbWhileBlack became popular when a studyfound that Black guests face higher rates of rejection than White guests. Since then, a team representing executives from every Airbnb department conducted a comprehensive examination of how Airbnb has fought discrimination in the past, where these efforts fell short, and how they can be improved in the future. Beginning November 1, 2016, Airbnb made a decision that everyone who uses Airbnb around the world will be asked to affirmatively agree to uphold a commitment to treat fellow members equally regardless of race, gender identity, and national origin before they book a listing or share their space on the Airbnb platform – a small, but important step in shifting norms around racist behavior. 
Companies must also ensure that internal organizational conditions support this work. Essential factors include:
6. Strong diversity and inclusion practices: Most companies are spending increasing resources on diversity and inclusion today. CEOs have come together to publicly state their commitment to this work. Starbucks recently enlisted the advice and counsel of social scientists, researchers and other experts in designing the training curriculum for its employees. Yet, we see time and again, advertisements that are racist or culturally inappropriate or products and services that are discriminatory or exclusionary towards gender or race. Perhaps if all core business units such as product development, marketing, and sales teams have diverse employees who understand equity and cultural humility, and employees feel comfortable raising concerns, mistakes could be avoided. Having a diverse staff is itself an essential goal: Our research shows that having a diverse workforce that mirrors the customer base is critical to unlocking the business opportunities associated with advancing racial equity.
7. Leadership support, structure, and accountability to embed racial equity in the business: In most companies, diversity and inclusion efforts are entirely separate from the business units responsible for market expansion or ensuring the quality of service. However, some companies are bringing skilled expertise in diversity, equity, and inclusion in their operations. When Airbnb found that there were too many instances of people being discriminated against on the Airbnb platform because of race, the company decided to assemble a permanent, full-time product team of engineers, data scientists, researchers, and designers whose sole purpose is to advance belonging and inclusion and to root out bias.
8. Establishing mutually beneficial partnerships with organizations led by people of color: While we hope companies will find new opportunities to better understand and authentically serve communities of color in ways that reduce inequities, we know companies can't do this alone. Leading companies understand the need to partner with experts that work with communities of color. It is important to ensure that these are not token partnerships, but authentic and mutually beneficial for both the business and the local partner. Cigna, a commercial health insurance company collaborated with a local health care system in Memphis, Tennessee, to promote breast cancer screening among its Black customers living in neighborhoods with limited access to screening facilities. Efforts like these contributed to the elimination of the breast cancer screening rate gap for Black patients, originally identified in 2012 and 2013 data. This partnership helped reduce unnecessary costs for Cigna and contributed to the goals of the local health care system.
Download the Health Care report >
Download the Financial Services report >
Contact us to join companies that are working with FSG and PolicyLink to find new business opportunities by advancing racial equity.
Learn more about FSG's work with corporations >