In the years since the Great Recession, unemployment levels have fallen across the United States, while economic growth in the country has rebounded. As a result, competition for entry-level talent is growing, and many employers are struggling with rising employee turnover. We estimate that the U.S. retail industry lost more than $9 billion to voluntary entry-level turnover in 2016.
While the pressure to find and keep talent is felt by employers large and small, FSG's research over the past year identified a number of companies that are creating business and social value by investing in their entry-level talent.
Take Wegmans Food Markets, a regional grocery store chain in the U.S. They have invested in training and retaining their employees for decades. In 2017, their employees voted them onto Fortune's "Best Places to Work" list for the 20th year in a row. This year they are #2 on the list. One Wegmans leader explained their success this way: "We sell groceries, but we're in the people business."
This people-centric way of doing business has both financial and societal rewards. Companies that are "winning the war for talent" are not just investing in their executives. They are investing in their frontline, entry-level employees, particularly those who have faced barriers to economic opportunity. That investment pays off in the form of reduced recruiting and training costs, a stronger internal talent pipeline, improved retention and advancement, better customer service, and a stronger company culture. Investing in entry-level workers creates greater job stability and more opportunities for advancement for employees, contributing to a more economically vibrant society. This successful return on talent investment is an approach called impact hiring.
Wegmans isn't the only company that has adopted an impact hiring approach. In our research—which was funded by Walmart for the benefit of nonprofits, foundations, workforce organizations, and employers—we found a wide range of pioneering companies that are creating business advantage through hiring, retaining, and developing individuals who face barriers to economic opportunity.
Consider the case of Gap Inc., a company that has made a substantial commitment to invest in the retention and advancement of entry-level talent. In 2007, they launched a store internship program called This Way Ahead. The program was designed to offer young people from low-income communities a chance to find and succeed in their first job. Today, Gap Inc. offers jobs to 75 percent of program graduates because they have found program graduates have twice the retention rate and much higher engagement scores than peers who did not participate in This Way Ahead. As a result, the company announced a new long term goal this year: by 2025, 5 percent of all entry-level new hires will be graduates of This Way Ahead.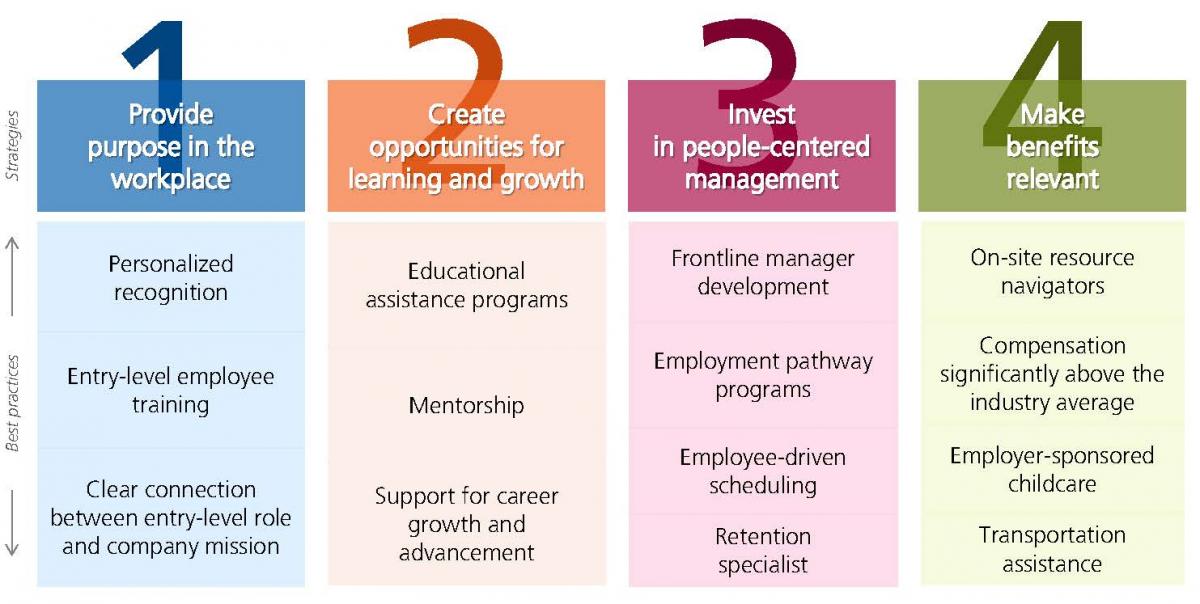 In our new report, Investing in Entry-Level Talent: Retention Strategies That Work, we have identified 4 impact hiring strategies and 14 evidence-based practices for business leaders, nonprofits, workforce organizations, and foundations to consider in their work to improve economic opportunity for American workers.
Download Investing in Entry-Level Talent >
We want to hear from you. This is a space that is ripe for innovation, and we welcome your feedback, experiences, and ideas on best practices for hiring, supporting, and retaining talent.
Our recently launched Impact Hiring Initiative is a community of practice for employers and workforce partners interested in innovating and implementing best practices around hiring, retaining, and advancing populations that traditionally face barriers to economic opportunity. Learn more >