Growing Livelihood Opportunities for Women
The Home Healthcare Industry
The Indian home healthcare (HHC) industry is growing and has the potential to employ 66,000 attendants by 2026. Today, roughly 70 percent of home healthcare attendants are women, as they are often perceived as better caregivers.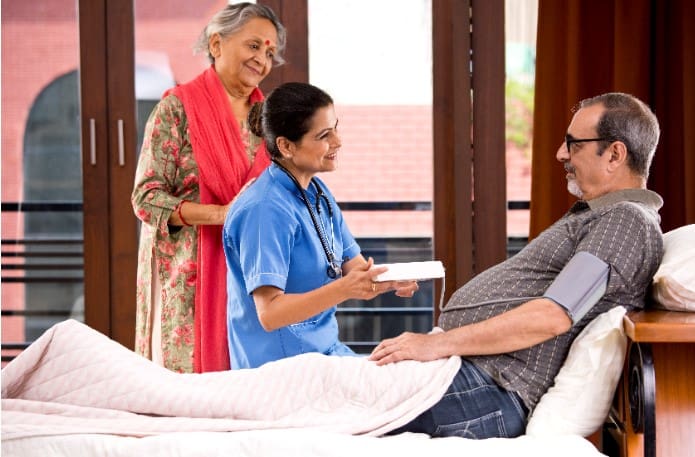 Home healthcare can create well-paying, socially acceptable jobs for women. Photo credit: iStock.com/triloks
Home healthcare refers to the provision of healthcare services at home (e.g., post-hospitalization care and healthcare management for the elderly). The industry is expected to grow at roughly 19 percent[1] annually, driven by an increasing elderly population, lower home care costs compared to hospitalization, rising nuclearization of families, and growing prosperity.
The HHC industry has high-potential for GLOW as it:
Has the potential to employ 66,000 attendants by 2026[2]
Can create well-paying, socially acceptable jobs for women
Leverages women's capabilities as perceived better caregivers
Barriers Faced by Employers
The HHC industry is currently dominated by unorganized, small-scale players. These players provide services at a comparatively low-cost and poor-quality care locally. Most formal HHC providers are struggling to scale and create more jobs for women due to barriers such as:
Limited differentiation from unorganized players
Limited supply of skilled HHC attendants due to low awareness among women about HHC as an aspirational employment opportunity and safety concerns from women's families 
High attrition among attendants
Lack of insurance coverage for HHC
Difficulty in acquiring large number of customers through doctor referral
Resources for the Home Healthcare Industry
GLOW's Home Healthcare Partners