Growing Livelihood Opportunities for Women
Roadmap to Gender Equity for Last-Mile Delivery Operations
Logistics companies can implement 17 low-cost interventions to improve gender equity in their last-mile delivery operations​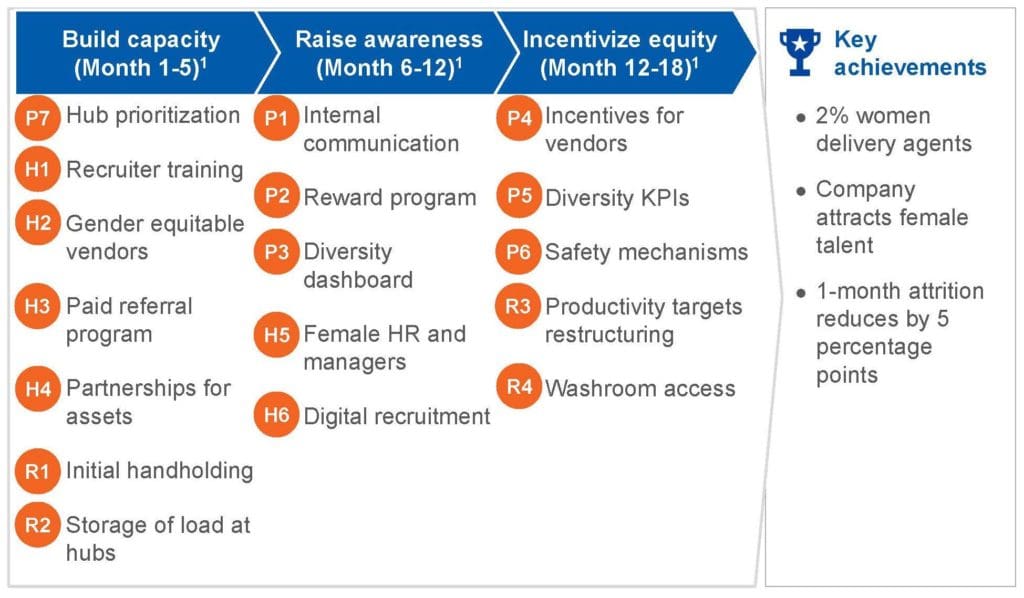 Why should logistics companies aim to improve gender equity in last-mile delivery operations?
Access to a large pool of additional candidates
Lower absenteeism
Improved brand perception among customers
Improved work culture
Why do last-mile delivery operations have low gender diversity today?
Low priority given to hiring women
Limited capability to hire women
Inability to find women who know how to drive and have two-wheelers
Low ability to retain women
How can logistics companies make last-mile operations more gender-equitable?
Build the organization's capability: Train recruiters and managers on how to hire and retain women
Demonstrate commitment: To increase motivation of recruiters and managers, start recognizing and rewarding recruiters and managers prioritizing gender equity
Enhance working conditions: To retain women, explore modifying the role and strengthening infrastructure
  To start your gender diversity journey, download the gender equity roadmap >
If you want support implementing this roadmap, email us at GLOW@fsg.org.