Growing Livelihood Opportunities for Women
Roadmap to Gender Equity for Flexi-Staffing Companies
Flexi-staffing companies can implement 10 low-cost and low-effort interventions to become a reputed provider of a gender-diverse workforce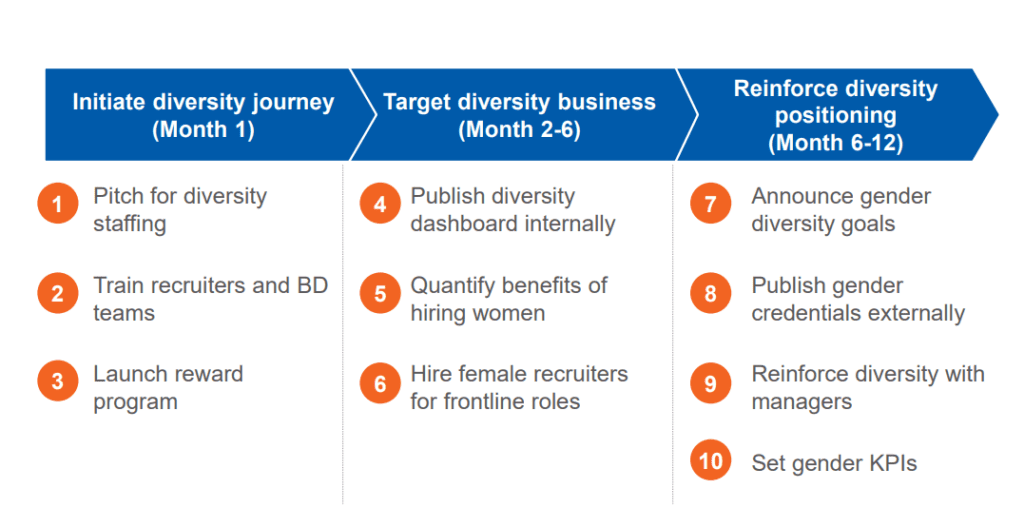 Based on fieldwork with recruiters in 5 states, interviews with 100+ employees at 10+ flexi-staffing (FS) companies, research with 6,600 women, and interviews with clients of flexi-staffing companies, GLOW has developed a roadmap for FS companies to start delivering on their gender equity priority.
Why should FS companies aim to improve gender diversity?
Clients are hiring women within their organizations and have started mandating women in outsourced roles. Unless flexi-staffing companies start building their capabilities today, they will not be able to deliver on this upcoming demand.
Why do FS companies have low gender diversity today?
Recruiters do not have the skills to hire women quickly
Recruiters are not motivated to change practices to hire women
How can FS companies become more gender diverse?
Reward and recognize recruiters: To increase recruiter motivation, start recognizing recruiters hiring women each month and offer a gift voucher to the top recruiter every month
Build the organization's capability: To skill recruiters, set up a monthly training program to increase overall productivity and female hiring
Strategically position the company: To gain market share, start publishing gender diversity credentials and pitching for exclusive diversity mandates
To start your gender diversity journey, download the gender equity roadmap >
If you want support implementing this roadmap, email us at GLOW@fsg.org.