FSG understands that social change is about systems change. We support social change leaders and their teams in applying the principles and practices of systems thinking to their work using a variety of tools and approaches.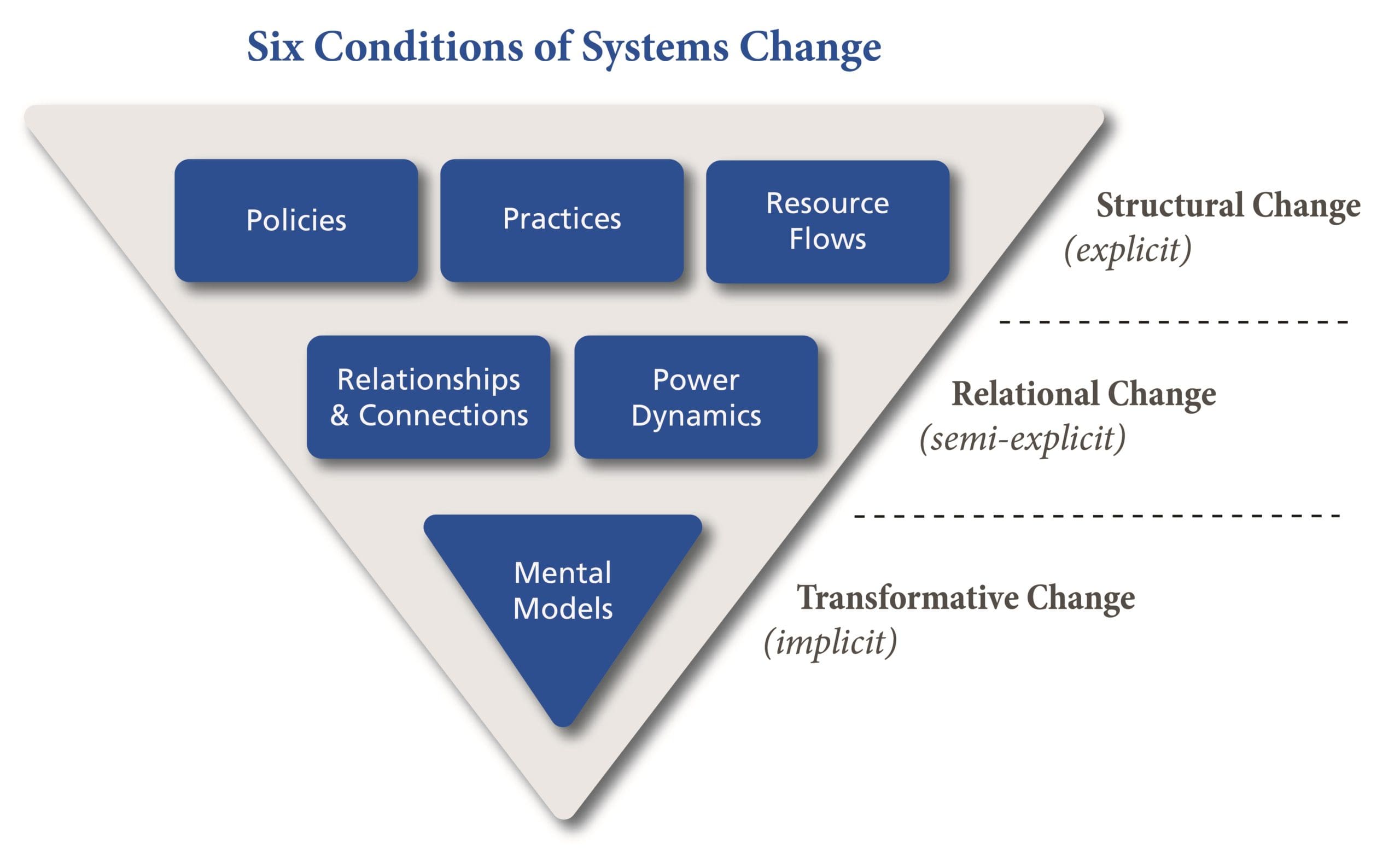 Explore issues from a systems perspective, looking deeply at context, connections, and patterns, and incorporating multiple perspectives into our work.
Support collaboration across sectors, including with corporations and governments, to forge cross-sector coalitions to tackle large-scale problems to produce systems change.
Elevate those with lived experience to help shape system change solutions.
We aim to advance diversity, equity, and inclusion (DEI), through the questions we ask, the way we analyze data, how we engage with others, and the recommendations we make on strategy and partnerships.
Provide training, webinars, coaching, and technical assistance to build the field's capacity to apply a systems thinking lens to their work.
Contribute to the field through publications and tools that support systems thinking and change.
Supporting a Culture of Health
FSG worked with Robert Wood Johnson Foundation leaders and staff over a 2-year period to embrace an emergent strategy…
Improving Early Childhood Education in Houston, Texas
FSG worked with Early Matters to accelerate its progress on early childhood education in Houston, Texas, by helping the…
Assessing the Building Healthy Communities Initiative's Progress
FSG was engaged to conduct a strategic review of the Building Healthy Communities place-based initiative for The California Endowment.
The Water of Systems Change
Foundations involved in systems change can increase their odds for success by focusing on the least explicit but most…
12 Ways Foundations Are Transforming Themselves to Transform Their Impact
Putting Systems Thinking into Practice in Your Organization
Facilitating Intentional Group Learning
A Practical Guide to 21 Learning Activities
The Dawn of System Leadership
Complex social problems require a unique type of leader: the system leader, individuals who catalyze collective leadership. Co-authored by Peter…
Propositions for Improving Practice
Tools for Supporting Systems Thinking and Change
Earlier this month, my colleagues Srik Gopal and Hallie Preskill described the characteristics of complex systems and introduced a…
Putting Systems Thinking into Practice
Several leading thinkers such as Brenda Zimmerman, Frances Westley, and Michael Quinn Patton (in Getting to Maybe), David Peter Stroh…
As part of our blog series on system mapping, we'd like to share an example from one of our…
An Introduction to System Mapping
Much has been written recently about the importance of using a system lens, or focusing on system change, to make real…