Jane Glasgow is the executive director of Minus 9 to 5, a collaborative, community-driven initiative catalyzed by the Hampton Roads Community Foundation with a vision of ensuring every family in Hampton Roads, Virginia is equipped and supported to raise children who are healthy, thriving, and ready to learn.
In 2016, I worked with Jane, the Hampton Roads Community Foundation, and nearly 100 other stakeholders in Southeast Virginia on the development and launch of Minus 9 to 5. FSG recently published a case study detailing lessons learned from the first two years of this initiative. Below, Jane reflects on her goals for the year, sharing important insights for others leading systems change in their communities.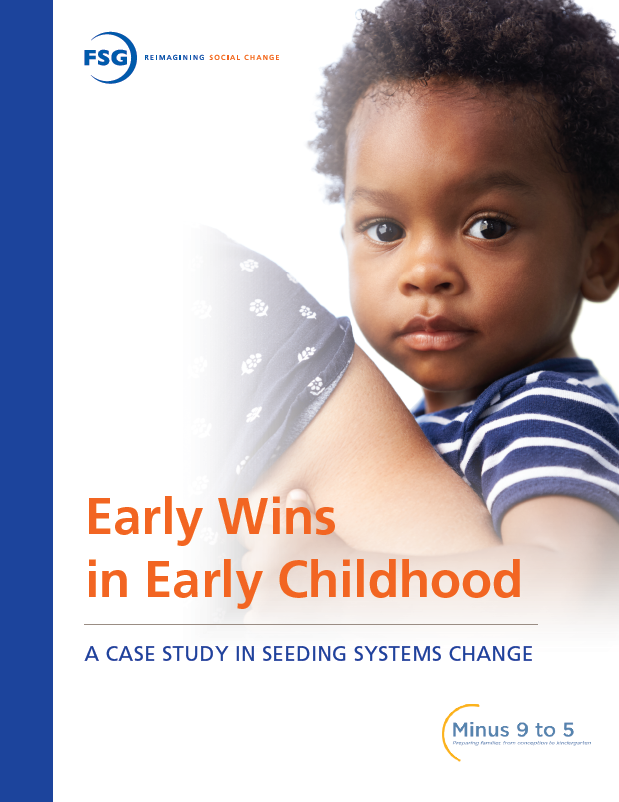 By all accounts, Minus 9 to 5 is in its toddlerhood. Over the past 18 months, it has grown from a newborn initiative with an Executive Director and a Steering Committee to a standing, strong initiative with over 100 stakeholders representing almost 80 organizations. Together, we have established a common vision for early childhood in the Hampton Roads region. While still growing and learning, we have accomplished a great deal. Along the way, we have celebrated success and learned a few lessons as well. Reflecting on the lessons learned that we captured in the case study and beyond, I have identified some areas that Minus 9 to 5 is committing to focus on in 2018:
1) Keep learning and evaluation front and center in our work
Collective Impact is arduous work where change happens slowly. Like putting one piece of a huge puzzle in place, it doesn't look like much of an accomplishment. However, by the time you put many pieces in the puzzle, progress is evident. A thoughtfully designed learning and evaluation plan is key to showing progress in small steps. We need to ask whether we are truly working as we said we would. Do we really have a shared vision, aligned goals, and do we adhere to our guiding principles?
If the vision and goals aren't those that the community sees as their own, then it's really not a community-led effort. While we are all clear on the metrics we want to change, we need to commit to and be accountable on how we work together to build a better system, making change in small ways, that when combined, will impact our shared metrics.
2) Engage more families in our work at a deeper level
Through my research and experiences, I know the importance of engaging families and allowing them to be part of solutions to meet their needs, rather than solutions that other stakeholders think "they" need. It sounded easy enough when we started but it's been one of the most challenging pieces of this initiative.
First, we tried a Family Council where families met quarterly to weigh in and provide input. That proved to be an ineffective strategy because getting families with young children from different cities to meet together in a centralized location was an unreasonable expectation. They just couldn't attend. Instead, we did focus groups and worked to get parent perspectives, but still we struggled with getting them involved in the Steering Committee and working groups. This year, I resolve to continue to find ways to get families (biological, foster, grandparents, and adoptive) to our meetings so they can be contributors to the discussion.
3) Monitor, adjust, and always focus on stakeholder engagement and buy-in
Over the first three months of the initiative, I literally used every connection I had in the community to connect with stakeholders and build the working groups. I asked colleagues of colleagues to help me identify the right people. Given the excitement in our community around this effort, we had very strong engagement. Yet even with intentional planning for productive meetings, forward progress, quick wins, and keeping folks engaged, the natural ebb and flow created comings and goings of members. With each new action plan, we asked, "Do we have the right people to make this happen? Has somebody stopped attending? Why? Can we reengage them? If not, do we need to bring someone else to the table?"
It's easy to feel like the stakeholder engagement box has been checked once you've done the initial work. The reality is it is a box that will never be checked and needs continuous monitoring, managing, and attention. In the end, it's about the stakeholders and community organizations coming together to make things happen. I will continue to evaluate our stakeholders, their levels of engagement and pulse-check frequently.
4) Transition to our new backbone home, the Eastern Virginia Medical School (EVMS), with an open-mind looking for new and innovative opportunities to build a better system
I get the same response when I tell people that we will be transitioning to EVMS—a big smile, followed by a resounding "WOW that makes so much sense." Our connection with EVMS makes a bold statement: a collective, community effort that focuses not just on child care and early learning, but also on ensuring that all children are healthy, thriving, and ready to learn. EVMS, a community-centered medical college, offers many opportunities that will open new doors and allow different sectors to work together in a unique way. Our community has committed to creating better coordination and alignment across all the sectors that impact families from conception to kindergarten. In order to capitalize on those opportunities, our eyes and our minds must be wide open to see what may be unexpected.
As you can see, Minus 9 to 5 has a lot to celebrate but also continues to change and evolve as it grows. With a lofty agenda and goals for 2018, we resolve to march forward, one little toddler step at a time, to make our community better for our youngest residents and their families.