This post is a part of a blog series in which we're introducing and sharing guidance for using different tools to support systems thinking and practice.
This month, we interviewed Chera Reid, Director of Strategic Learning, Research, and Evaluation at The Kresge Foundation, to discuss her experience facilitating a trend mapping exercise with her colleagues.
Hi, Chera. Thanks for joining us to talk about your experience with trend mapping. To get us started, could you tell us about why you decided to use trend mapping and what you hoped to accomplish in your meeting?
I'd be happy to. At The Kresge Foundation, we hold a monthly Program Forum with our entire grantmaking staff and colleagues from the communications, social investment, and program operations departments. We often have a guest speaker for these meetings, but I wanted to encourage my colleagues to practice learning together without an external expert. I thought trend mapping would be a useful and engaging way for staff across the Foundation to think about the intersections of their work, to consider new possibilities for working together, and to discover new topics or areas of work that aren't yet prominent in our grantmaking or investment strategies.
How did you frame the activity? What questions did you pose to participants?
Our North Star at The Kresge Foundation is about expanding opportunity for low-income people in cities, which gives us significant common ground across our 6 programs. Because the trend mapping exercise was really about learning together around a shared interest, I opened up the decision of what we would map to the group.  I stressed that since there was no external facilitator, the topic we chose should reflect the knowledge and experiences of those of us in the room. The question I posed to the group was, "What is a topic that is really weighing on your mind? What could support your work?" The group decided to discuss the big topic of equitable community development.
How did the activity go? Did anything surprising come up?
From the beginning, everyone was very engaged. I asked them first to work with colleagues at their table to write out different trends on post-it notes, deciding as a group which trends they wanted to share with the full room. Next, I invited the table captains to place their group's trends on the main map, with similar or related trends placed close together to form clusters. Finally, as a large group, we named the clusters, identifying the following themes related to our main topic of equitable community development: issues of race and racism, the value of the arts and creative placemaking, the importance of housing, and transit issues.
It was very interesting to see some trends come up that we don't explicitly work on, such as transit, race, and criminal justice. For instance, related to the topic of criminal justice: That same topic had been raised previously in a monthly meeting of program officers, and in the trend mapping session, those program officers proposed designing some future learning opportunities around criminal justice. The trend mapping exercise led us to that insight around identifying an issue of shared interest that wouldn't have surfaced otherwise, and now we're taking action on it.
Race and racism also came up in a very big way. This was an important discussion, not only because we need to give it space to come up and mark it as something important in our work, but also because it led me to invite some colleagues who wanted to continue the conversation to do a second iteration of the trend map and talk about next steps. As an organization that is developing a workplace strategy around diversity, equity, and inclusion, this was really helpful input. It also affirmed for our staff, before we have a formal organization-wide strategy and set of activities, that what they are noticing and what they care about are important.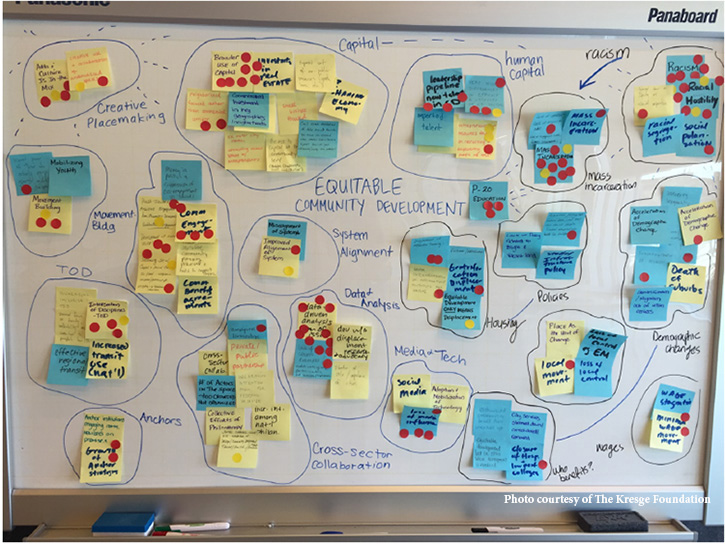 In addition to FSG's trend mapping tool, did you use any other resources to inform the trend mapping process?
Yes, I used GEO's Systems Grantmaking Resource Guide to broadly introduce systems grantmaking and systems thinking. The two resources worked well together, and using the Systems Grantmaking Resource Guide as an introduction helped opened people up to the trend mapping process.
What advice would you give others using the "Guide to Trend Mapping"?
There are 3 things I'd recommend keeping in mind:
Continue to iterate: Trend mapping is a very flexible tool: you can use it to talk about a really broad issue, or something specific and narrow. I mentioned that we had some follow-up sessions on criminal justice and on race and racism to dig deeper into the high-level trends that came out in the first mapping session. If I had more time, I would also take the original map we made on equitable community development and bring it to all the individual programs to ask them to identify where the greatest energy is for their program, and to pull out 1-2 trends and go deeper on those topics.
Display the map: It's really interesting to me to think about the map as a living document and a visual learning agenda. Throughout the iteration process, we left the map up on the wall so people could see it and observe how it was evolving as we dug deeper into specific parts of it, such as criminal justice. Having the map posted in a public place lets staff reference it and use it to help them look at their work from different angles.It's also a really powerful reminder of what can come out of the process of learning together. Typically, when we develop a grantmaking strategy, we assume that the data we should be using is from our previous grants and evaluations from those grants and maybe some research, but how do we account for these important internal conversations and shared learning experiences? In 3 years, if criminal justice shows up in a strategy discussion, we might not have traced that back to an internal conversation. But, now that we can actually see how we were learning together as an organization, it will be easier for us to connect those dots.
Take photos of the map at every stage: I would encourage people to take pictures of the process—it's pretty neat to see the map evolve as you connect topics and move things around.
Has your organization experimented with trend mapping? Please share your thoughts in the comments section below.
Download the "Guide to Trend Mapping" >
About The Kresge Foundation
The Kresge Foundation is a $3.6 billion private, national foundation that works to expand opportunities in America's cities through grantmaking and social investing in arts and culture, education, environment, health, human services, and community development in Detroit. In 2015, the Board of Trustees approved 370 grants totaling $125.2 million, and nine social investment commitments totaling $20.3 million. For more information, visit kresge.org.