This post is a part of our systems thinking tools blog series where we're introducing and sharing guidance for using different tools to support systems thinking and practice.
Last year, Ready for School and Mullins Consulting, Inc. partnered on a strategic review of Ready for School using the collective impact approach as a lens to understand the organization's community work and resulting impact. FSG served as a thought partner throughout this process, offering insight and expertise from their collective impact work.
To begin, we developed a 1-day workshop to engage community stakeholders in the review process. Participants included parents, organization staff, board and committee members, and key community organizational partners concerned about early childhood education and kindergarten readiness. We hoped to help participants identify, discuss, and gain important insights into Ready for School's immediate and greater community context and also gain a better understanding of Ready for School's organizational history and how it had come to be the organization it is today. To achieve these objectives, we used a tool called timeline mapping.
Before the workshop, Ready for School staff and board members developed a historic snapshot of the context surrounding Ready for School's milestones, focusing on changes in the early childhood system, the economic landscape, community dynamics, the political climate, and Ready for School's organizational history. This draft timeline, which we printed on poster paper, served as the basis for discussion with workshop participants.
At the workshop, we invited participants to brainstorm a list of key milestones and events that had impacted the early childhood educational landscape in southwest Michigan generally, and around Ready for School's work in particular. We then asked participants to add these factors to the timeline (see image below).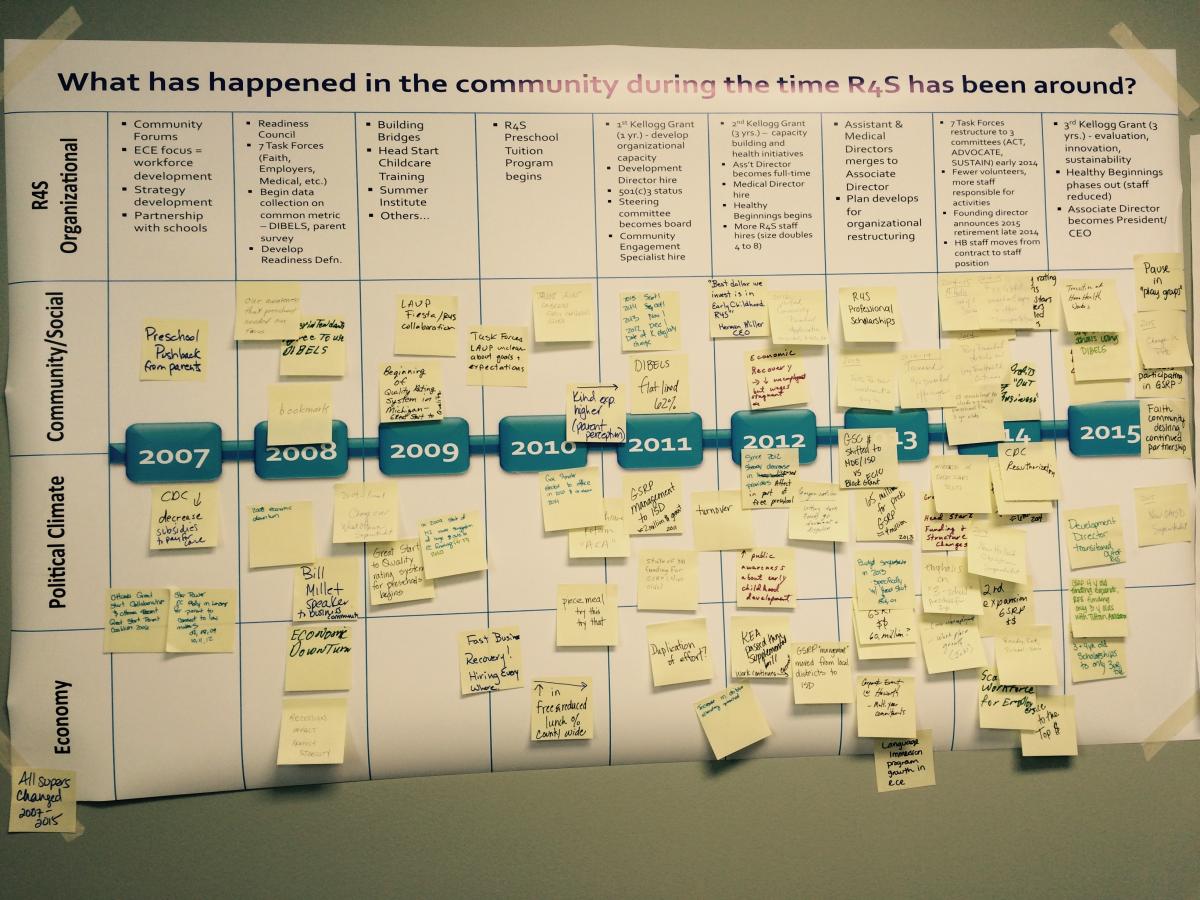 After the timeline had been revised and expanded, we facilitated a reflective discussion focused on key events and their impact on Ready for School's journey. This critical conversation provided:
A detailed look at how Ready for School had developed from a community-wide initiative into a nonprofit organization.
An opportunity for participants new to Ready for School to understand the organization's historical context, and the community influences on its work.
An improved understanding of Ready for School's relationships with other community stakeholders, such as Great Start, Head Start, the business community, and the intermediate school districts. This helped the group reflect on where duplication had occurred, what new coalitions had been formed, and where communication patterns had facilitated or created barriers to improved early childhood education and kindergarten readiness.
A basis for understanding and talking about the fluid dynamics of state funding decisions in early childhood education and how these affect Ready for School.
A detailed examination of how economic trends and changes in poverty dynamics were influencing Ready for School's organizational decision-making.
Following this rich discussion, participants were asked to consider the implications of the data for next steps in Ready for School's journey and progress toward its community goals. This discussion helped us realize that:
Business leaders have driven much of Ready for School's message to the community through, for example, sponsoring or speaking at events and through their funding commitments. This has contributed to Ready for School's visibility as a leader in early childhood educational issues.
The economic downturn in 2008-2011 and our region's slow recovery from that disruption have led to economic challenges for many families, especially for those with young children. Rising poverty rates in our region have likely played a role in mitigating Ready for School's impact, as well as the impact of other early childhood organizational and community readiness efforts.
Ready for School has experienced organizational restructuring and staffing changes during the time period under consideration. As a result, our message to the community has become somewhat ambiguous, and partners sometimes struggle to understand how best to partner with us.
State funding for early childhood education had been in decline the first few years of Ready for School's work, but in 2013, the state of Michigan authorized an unprecedented expansion of access to free, quality preschool programming for 4-year-olds. This prompted us to transition our funding away from a focus on 4-year olds and towards opportunities for 3-year-olds.
The Affordable Care Act (ACA) of 2010 also influenced our work by filling some of the gaps that we had previously been addressing. For example, the patient-centered medical home model moved team care coordination toward a more family-centered approach, allowing Ready for School to phase out its Healthy Beginnings early care coordination project, which employed RNs and Community Health Workers, and target those resources toward other high-needs areas.
The timeline mapping activity was a critical first step in helping us assess how our community's context has influenced our work. The tool was especially valuable because it allowed for deep reflection on the community's past and present approach to supporting health and literacy for the community's young children. We were able to use this information to frame and provide context for a deep discussion of the types and relative strengths of the partnerships Ready for School had in the community.
Our advice to groups interested in using this tool is to prioritize the pre-work in creating the initial timeline. Specifically, we encourage others to:
Be as objective as possible in adding data to the timeline.
Include key national or statewide events, and even media spots.
Make sure to allow for plenty of time to discuss the timeline, and remember that some discussions will spark spontaneous discussions on how events are interconnected with an initiative's efforts to create community change. This is all part of the process!
Download the "Guide to Timeline Mapping" >
About Ready for School
Ready for School is a nonprofit organization established to support a community-wide kindergarten readiness initiative in the Holland/Zeeland area of southwest Michigan. The organization's mission is to prepare all children for success by equipping parents through the integrated support of the community. A strong part of this community message has been that kindergarten readiness prepares the community's future workforce and supports the economic prosperity of the community.