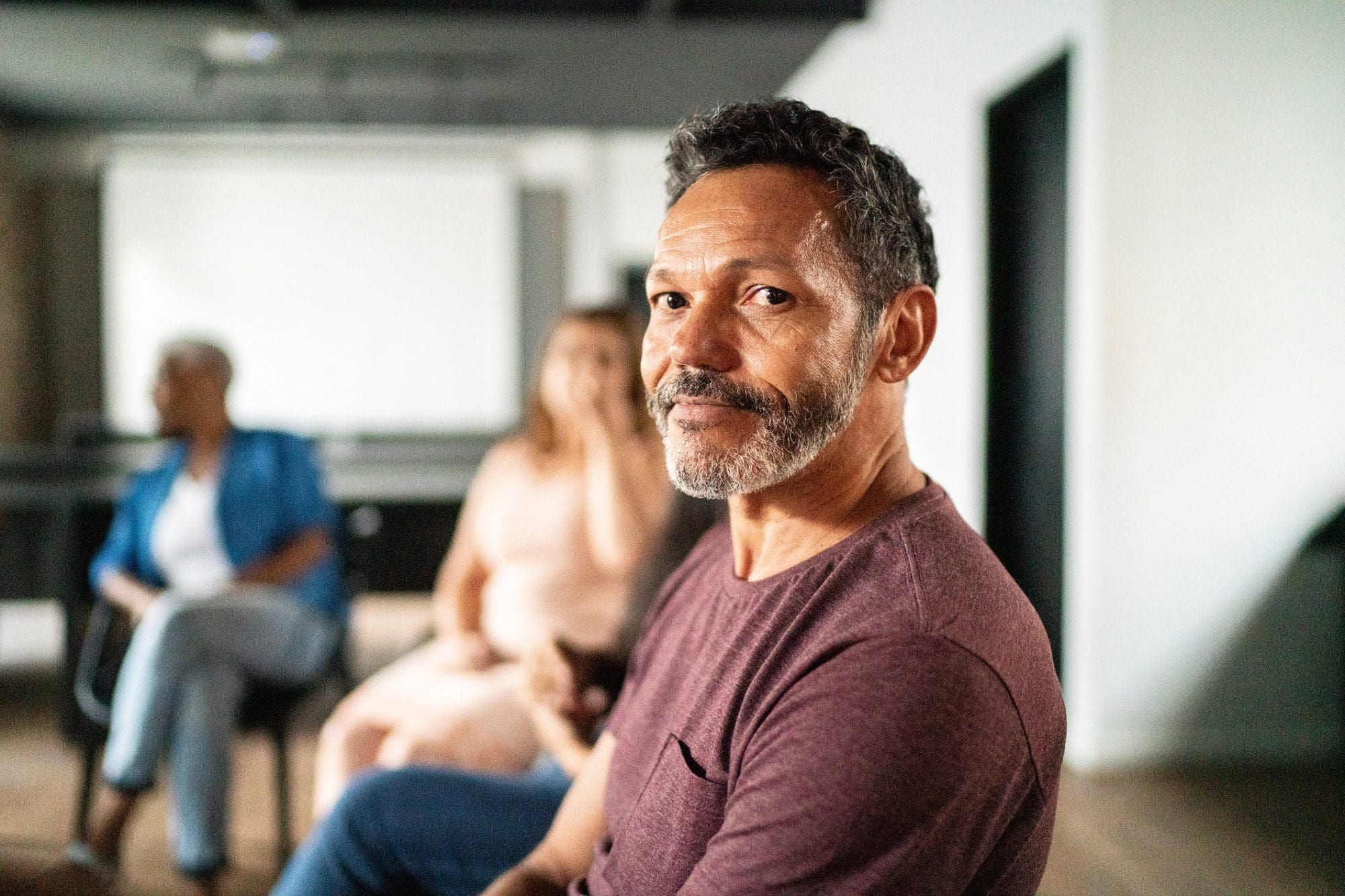 Movember is a men's health charity focusing on improving equitable health outcomes for men overall, and specifically in prostate cancer, testicular cancer, mental health, and suicide prevention.
FSG was selected to help develop a five-year impact strategy to shape future investments and amplify Movember's impact for men and their communities. In this interview, Michelle Terry, CEO of Movember, shares what was important about this work and what she is most excited about in taking this refreshed impact strategy forward.
Why is addressing behaviors, systems, and culture, such as societal norms and narratives, important for improving health outcomes?
What makes Movember unique is our connection with our community of men and their supporters. We have been interested in directly engaging with men to change behavior, which has been great, and now we want to go further to deliver more sustained impact to a wider population of men.
The research undertaken by FSG really highlighted the importance of protective factors in achieving good health outcomes for men across several diseases, such as proactively seeking health advice rather than not talking to anyone about your concerns, be those physical or mental. In Europe, for instance, the frequency of GP consultations among men can be as much as 18% lower than for women. On the flip side, research has shown that men who make self-care part of their regular routine are twice as likely to help with household work and spend more than three hours a day on average caring for others. Men caring for themselves helps them to better care for others, which is an important step towards wider goals for gender equity.
We want to combine our expertise in raising awareness and shaping behavior with individual men with influencing specific settings and systems where we know many men go. For example, we have amazing relationships in the sports sector. We want to build on this legacy to continue to shape the culture and norms of the sector to foster better physical and mental health outcomes, for those participating in a sport and as spectators. It is through combining direct work with men, youth, and their communities—alongside working with partners that work at scale and advocacy for policy shifts—that we can have an outsized impact through shaping the systems that hold many of the barriers and inequities in-place.
How is Movember leveraging its convening power to realize collective action, and why is it so central to Movember's strategy?
We know no single organization alone can drive change. This has been core to our approach over the past twenty years and is deep in our DNA. Movember has a "secret power" of convening and galvanizing action among our community of fundraisers, as well as behind the scenes as a leading funder in medical research. Movember has taken a collaborative approach in the prostate cancer and clinical research domains over the past 20 years (e.g., through the Real World Evidence Network) and has drawn inspiration from FSG's thinking on collective impact to further these efforts systematically.
As part of the strategy work with FSG, we surfaced the extent to which the men's health space is nascent and fragmented in terms of shared objectives, research questions, and resourcing. There is no convenor connecting the dots, and this is something we want to explore to see if this is where we can contribute as a recognized and legitimate champion in this space. We also prioritized the opportunity to harness the power of the voices of the men and their supporters in our community to be the change. We want to tap into our community and invite them to contribute to the agenda, be that as part of programs, research, or advocacy campaigns, and just making those small changes within their own spheres of influence, be that in the workplace or at home.
How is Movember embedding the voice and experience of at-risk and underserved men to shape solutions?
We cannot change the face of men's health without thinking about those men that are most at-risk. Movember has been on a journey within our organization to deepen our internal capabilities and culture to enable us to co-create and co-deliver more inclusive programs and campaigns. We are proud of our partnerships working with indigenous communities in Canada and Australia, which have really been sharing power and resources to support mental health.
Moving forward as part of the strategy, we will be paying close attention to ensuring that our research and evidence building efforts—and those of our partners and academic community—are inclusive. This may look like continuing to undertake innovative ethnographic research with young men from lower-socioeconomic backgrounds to inform our content creation, programs, and advocacy, ensuring greater diversity in clinical research and trials, and considering the needs of different groups when seeking to shape health care systems to be more responsive and accessible to more men and boys.
What are your hopes for Movember in five years' time? What is your call to action to others?
Today, a gender-sensitive and inclusive approach to health is absent. We recognize that men—notably privileged men—have been in the lead for designing the systems which we encounter every day. Ironically, these health systems are not inclusive of men's needs or supportive of wider goals for gender equity. Globally, there are only seven countries with national men's health policies, signaling that it remains an underprioritized space.
The power for change sits with our community—we want to work harder to partner with them to give them a voice and be the change they want to see.
---
Movember is the leading charity changing the face of men's health on a global scale, focusing on mental health and suicide prevention, prostate cancer, and testicular cancer. The charity raises funds to deliver innovative, breakthrough research and support programs that enable men to live happier, healthier, and longer lives.