On March 30, 2017, I had the honor of presenting in front of more than 200 grantmakers committed to LGBTQ issues here in Seattle, WA, as a part of the Pacific Northwest Plenary for Funding Forward 2017, a conference organized by Funders for LGBTQ Issues (FSG is a proud member). While the session focused on supporting LGBTQ communities in the Pacific Northwest, funders in the U.S. and abroad can apply the lessons from our discussion to support LGBTQ communities more intentionally.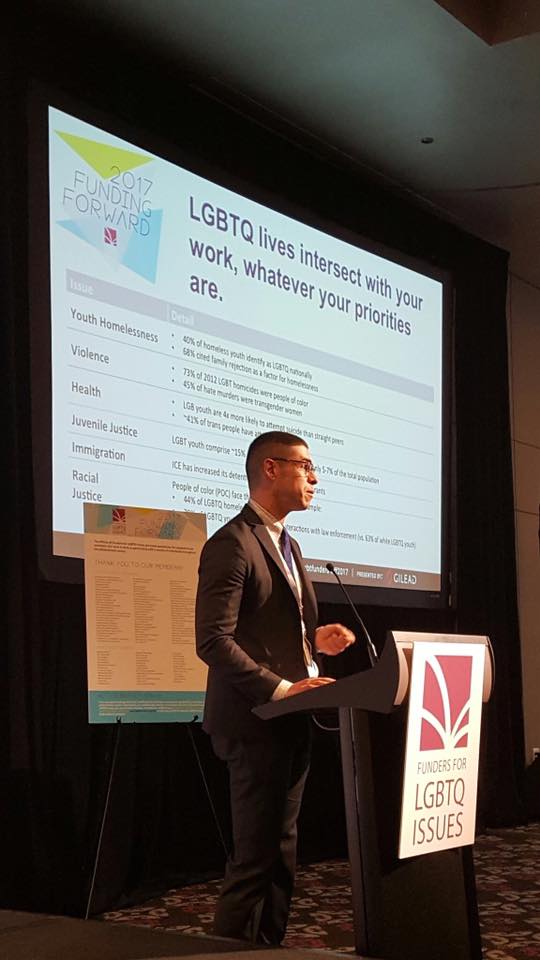 Funders' support is required to grant new rights to our communities, but also to protect gained rights. Once a law is passed, funders often move on to the next advocacy priority, but in many cases continued support is needed to protect these laws. For example, the state of Washington has had a non-discrimination law ensuring equal treatment for our transgender and gender diverse community for the last 11 years, but this right is currently at risk by a new ballot initiative that is gathering signatures to repeal legal protections for transgender people in our community. In response, state and national leaders are organizing and gathering funds to fight back with the campaign Washington Won't Discriminate. The fight for LGBTQ rights in our communities doesn't end when we pass laws and protections—foundations, grassroots organizations, and others need to continuously work to protect these rights.
We are not 'out' if we are not counted. Despite the efforts of organizations like Williams Institute, GLSEN, and Movement Advancement Project, there is still very little data on LGBTQ communities, particularly at the state and regional level. Our communities cannot be visible if questions related to gender and sexual orientation are not included in federal, state, and local surveys. The federal administration is currently rolling back data collection on LGBTQ communities, which presents a new challenge for funders making data-driven investments. Despite the lack of data, you can still count on regional and local organizations to help you identify needs and funding priorities. Organizations like Pride Foundation (Pacific Northwest) and P Fund Foundation (Upper Midwest) work regionally and have a good understanding of the landscape.
LGBTQ lives intersect with the work you do, whatever your priorities are. Regardless of the specific issue your foundation addresses, it's highly likely that LGBTQ communities are being disproportionately impacted by systemic oppression in a way that is connected to your work. One example is youth homelessness: 40 percent of homeless youth identify as LGBTQ according to the Raikes Foundation. Another is in juvenile justice, where LGBTQ youth represents just 5-7 percent of the nation's overall youth population, but composes 13-15 percent of those currently in the juvenile justice system, according to the Center for American Progress. Even if you are not directly funding LGBTQ programs, you can still support LGBTQ issues by being intentional in how you are serving our communities in your current grantmaking.
When you work with our community you are working with everyone. The LGBTQ community is a slice of the entire population. We are immigrants, we are people of color, we have different abilities, and we represent different religions. If your organization wants to support LGBTQ issues, you should consider various programs that address the marginalization we suffer from our gender or sexual identity, along with our legal status, ability, religion, and race.
If you care about the LGBTQ community, you can actively support and affirm our community through your grantmaking. For more information and best practices on supporting LGBTQ rights, check out the Funders for LGBTQ Issues resource library.