I have an enormous amount of optimism about the role of companies in achieving social change. We are in a moment. In 2018, the opportunity for companies to positively shape our future is unprecedented. And, we, as leaders of social impact in our respective companies, have an opportunity and a responsibility to seize this moment. I shared this reflection in my keynote remarks to CSR professionals at the ACCP Annual Conference in Portland, Oregon.
Now more than ever, social purpose has become a business imperative. The pressures that keep corporate leaders up at night, if harnessed correctly, have the power to change the world.
What are these pressures?
Competition for talent

: With companies competing fiercely to attract and retain talent and with purpose-focused Millennials representing 1 in 3 workers in the U.S. labor market, delivering on social purpose has shifted from a nice-to-have to a must-have.

Customer expectations and social norms: Pressure from purpose-driven consumers and shifting norms in society are forcing companies to consider the social and environmental dimensions of their products and operations as core business decisions rather than peripheral sustainability decisions.
Investor pressure: BlackRock CEO Larry Fink's letter that calls for business to serve a social purpose is "Exhibit A" in how investors can jolt the C-suite out of the inertia of short-termism. Investor pressure can serve as the lynchpin for catalyzing companies to think and behave differently on pressing social and environmental issues aligned with their long-term business success.
These currents of change are both energizing and perhaps overwhelming. Many companies have a huge gap between their aspirations and their performance. The first question these companies should ask is, "How can we start to narrow this gap?"
In my experience, a key challenge is that business leaders often have very different mental models about how and why companies engage in societal issues. This ranges from traditional, feel-good, PR-oriented giving to being integrated with business needs and strategy.
I categorize them as "purpose paradigms" to explain different ways of infusing social purpose.
Broad generosity

: Responsive, diffuse giving

Focused impact: Investing in social change through signature initiatives
Business-led social purpose strategies: Creating business and social impact
Enterprise-wide social purpose: Platforms that shape the entire company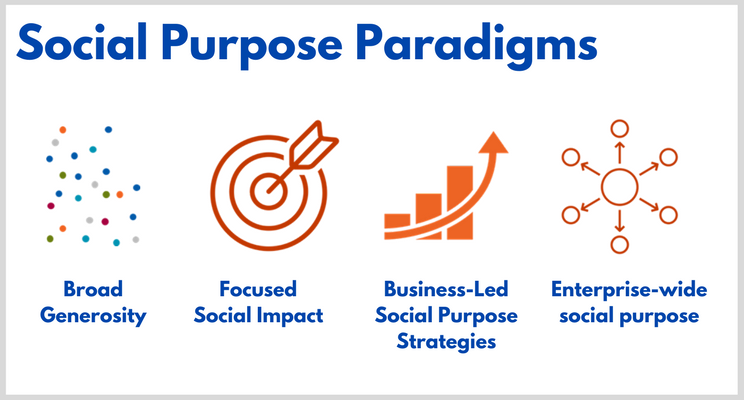 Today's world is calling for companies to imbed social purpose in their business strategy through either the business-led social purpose strategies or through enterprise-wide social purpose.
At FSG, we call this shared value—achieving business benefit while improving societal outcomes. Through our extensive research, our collaboration with Fortune on the annual "Change the World" list, and our advisory work with companies, we know that shared value isn't just an aspirational concept—it is a reality for forward-thinking, profitable companies.
Take CVS Health, a company that falls into the enterprise-wide social purpose category. In 2011, it redefined its business, transforming from a retail pharmacy to a company focused on improving patient health. In 2014, it stopped selling tobacco, a $2B category, and changed its name to CVS Health. The company created MinuteClinics to provide access to healthcare through its 1,100 clinics in 33 states, which have provided more than 37 million patient visits. And it re-arranged store layouts to place healthier snacks and beverages near check-out and moved soda to the back of the store. CVS' positioning as a health-focused company has contributed to its ability to win billions in its pharmacy benefits management business. Most recently, CVS Health acquired Aetna, a health insurance company, to create a further integrated offering for consumers.
FSG has helped a range of companies pursue social purpose through their intentional shared value strategies, including Mars catalyzing cocoa sustainability in Cote d'Ivoire, Intuit identifying growth opportunities in serving small businesses in underserved communities, and Toyota exploring business-aligned innovations in various aspects of mobility.
Seizing this moment does not mean doing what you've been doing with a little more focus and a little more efficiency. It does not mean making grand public proclamations on social issues, but continuing with business as usual on the inside.
Seizing this moment requires companies to do things in fundamentally different ways. It requires leadership. It requires intentionality. It requires investment. And it requires clarity on a company's social purpose.
Join other corporate leaders at the Shared Value Initiative's Summit in May >
Learn about FSG's corporate consulting services >