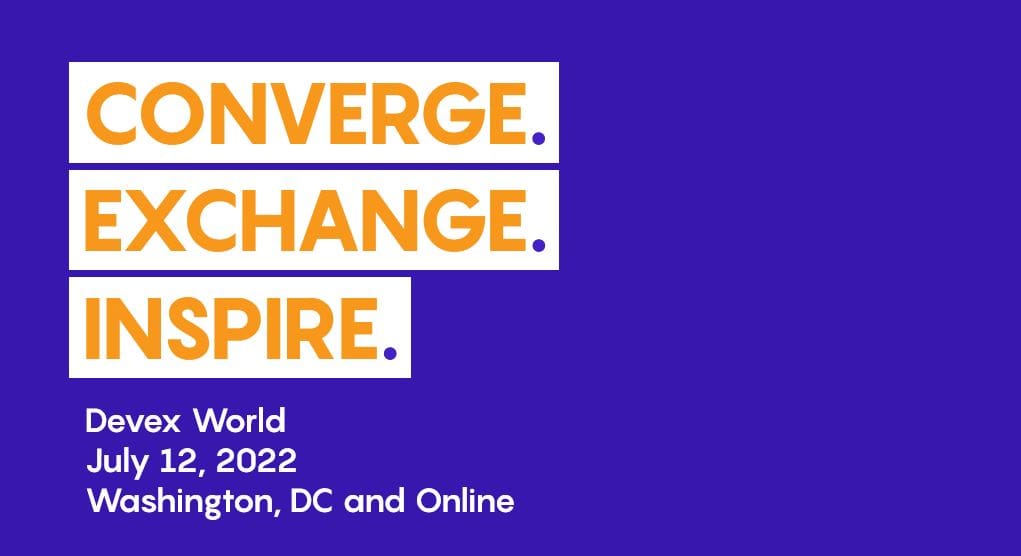 A few months ago, we had the opportunity to attend the 2022 Devex World Conference in Washington, D.C. As we look ahead to the UN General Assembly meetings and other key international development events coming up, we see it fitting to reinforce some critical lessons that surfaced on the roles each of us can play in this changing global landscape.
Working Towards a Better Normal for All
Our world is under tremendous crises, with monumental shifts spanning multiple facets of society. From debt crises to widespread famine and hunger to a growing wealth gap, communities continue to find themselves plagued by rampant inequality, coupled with repercussions of a post-pandemic world. Communities vulnerable to climate disruptions or social and political unrest are fleeing their homes at drastic rates. Many are falling victim to data theft and facing identity barriers as technological developments are abused to exploit displaced communities. Further, the lack of connection between funders/capital and local communities hinders the identification of solutions that work. Given the various shocks affecting the world, the Devex World Conference was aptly focused on "building a better normal."
As equity champions—both at the national and international level—we want to emphasize that this new reality must be better for all, not just the few. To successfully build this "better normal," our advice is to center the voices of under-represented populations who are often those disproportionately bearing the brunt of our many global challenges.
Fortunately, the last couple of years have also shown us unmatched resilience in the face of global turmoil. The COVID-19 pandemic, despite its disastrous repercussions, gave way to some of the most accelerated vaccine development in history. Digital connectivity has increased, with more people getting online for the first time and accessing more opportunities than ever before. The job market is evolving as individuals look for higher-paying jobs and for employers who are committed to a social not just financial purpose. Similarly, organized movements for change have gained significant momentum, with young people leading efforts to combat racial inequity and climate change and demand fair pay.
At the Devex World event, one such voice was Kennedy Odede, Founder and CEO of SHOFCO in Nairobi, who amplified the need for donors to shift power to those closest to the problem and, therefore, those who are most equipped to find appropriate locally-based solutions.
One main takeaway was clear: globally, there is insufficient philanthropic, governmental, and multilateral response and a lack of cohesive, coordinated, and comprehensive action. Acknowledging the need for greater and more unified action, Devex World 2022 encouraged all to plan for the future and ensure that the involvement and resilience of local actors are at the forefront of all global development efforts. At FSG, we support this vision and aspire to work with our clients to direct capital and social efforts in strategic ways that maximize impact while mitigating and adapting to future crises.
Local Knowledge, Global Action
As we look ahead, we encourage our clients—companies and foundations alike—to focus on alleviating the immediate needs many are experiencing while centering local know-how to maximize on the silver linings. We advise stakeholders to drive change through valuing local community knowledge and assets by:
Focusing on safety nets & wealth generation. As was shared by several speakers at Devex World, safety nets are eroding in many countries. Now more than ever, we need funders to focus on helping communities meet their most critical and basic needs. By supporting food organizations, vaccine development, housing, health and grassroots organizations, we can ensure that progress over the last decades is not entirely erased. In addition, efforts must go beyond typical charity to a concerted effort to support initiatives across sectors that help build the long term assets and wealth of the most marginalized.
Supporting social movements and democracy building. Whether through climate movements, worker movements, or movements towards racial equity, groups are coming together to advocate for change and justice. As socially-driven actors brainstorm the next steps, we encourage all to consider the role they can play in supporting those grassroots movements. At FSG, we guide foundations on placed-based work and Collective Impact efforts and support companies in their strive to place equity at the forefront of all business efforts through our Corporate Racial Equity efforts.
Trusting local leaders. As Kennedy and others urged, there is no more important work for funders to engage in than to form a relationship with the challenges they want to tackle. Doing so involves building trust, developing transparent relationships of mutual learning with those at the front lines, and fully committing to tackling systemic inequities. Trusting social actors, NGOs, and partners to know the best solutions is critical, as they are most proximate to the problem. The People First Community is one such effort helping to bring local leaders with global actors together to learn and share solutions about education. At the Devex World event, Nidhi Sinhi talked ardently about Trust-Based Philanthropy

—

and the journey each funder must take to learn with others humbly. At FSG, we encourage funders to consider unrestricted, long-term funding strategies and solicit and act on grantee feedback to effectively redistribute power and build a healthier philanthropic sector.
It is no longer a choice for companies and foundations to engage in building local power when combating poverty in local and global contexts. If driving effective and equitable systems change within the international development sphere is the goal, the suggestions outlined above can guide the way for socially-driven stakeholders.