For the past 20 years, the MetroWest Health Foundation has served as a catalyst for a healthy MetroWest region, providing over $5 million in annual financial support to meet the health needs of 25 communities in the MetroWest area of Massachusetts.
In 2017, recognizing the changing health needs in the communities they serve, the foundation engaged FSG in a strategic planning process. As a result of this process, the foundation is shifting from a programmatic-focused approach to a more integrated, systems-change approach to building a resilient, healthy, and equitable community.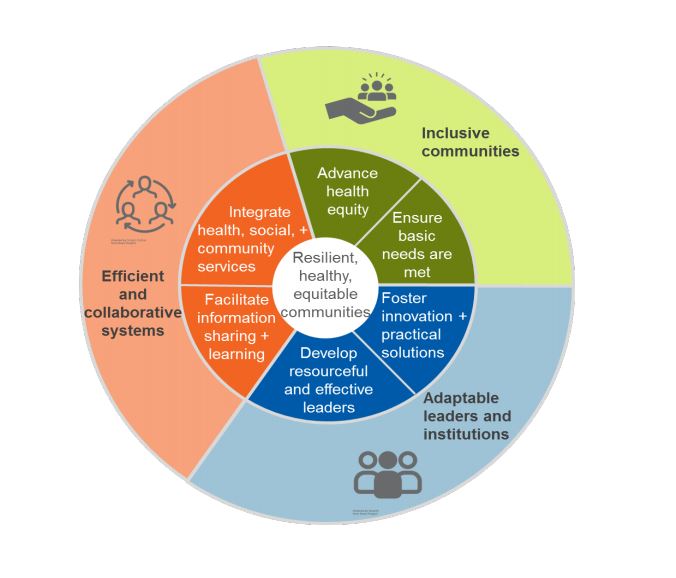 MetroWest Health Foundation's new strategic framework.
When a board member asked MetroWest Health Foundation CEO, Martin Cohen, about the framing for the resulting strategic plan, he asked if "the new plan was a case of the kitchen needing an update or did the whole house need to be gutted?" Martin responded that "after 18 years the kitchen was a little tired, the appliances were getting old and not that energy efficient, but that the house was in really good shape."
Here, board members Anna Cross and Alan Geller reflect on the impact of the strategic planning process, discuss what this shift in strategy means for their work, and share lessons for other board members on supporting an evolving organization.
The new strategic plan is an evolution from an issue-based strategy to an approach that is more cross-cutting and integrated to focus on building resilient, healthy, and equitable communities. What makes you most excited about this evolution?
Anna Cross: What's exciting for me is that we've taken the time to think about the Foundation's role in the community and whether we've had the impact in the past we wanted to have. We did not enter into this process assuming everything we've done in the past was perfect—we took the time to reflect on the foundation's role as a major player the community and how that role might shift to best meet the foundation's mission.
What we have now is a much more holistic and inclusive approach. We are really thinking about how the foundation can be a voice in and for the community; how it can be a catalyst to improve health outcomes.
The problems we are addressing in this strategy—issues impacting equity, health, and resiliency in the Metrowest community—are complex and multi-layered. We know these are not issues we, or any organization, can address alone, so we have had to intentionally change our thinking about what kind of partnerships we should create or join to accomplish our bigger goals.
Alan Geller: Going forward, I think we have the potential to be even more impactful with this new strategic framework. We are forging stronger collaborations and focusing on greater inclusion in our work.
One opportunity I'm particularly excited about is that we are identifying a handful of communities where the foundation could have outsized, long-term impact on overall community health.
South Framingham, for example, hasn't had the same positive health outcomes as other communities in the MetroWest region over the past few years. We currently provide funding to a number of organizations that work in different silos there, but there hasn't been a formal effort to thread those programs together. I am excited about the opportunity for the Foundation to better understand the needs of South Framingham stakeholders and residents and empower them to test collaborative approaches to creating greater health.
The MetroWest Health Foundation board and grant panel members invested a lot of time into the strategic planning process. What did you find most valuable about the process?
Alan Geller: Whenever I'm in a strategic planning process, I always look for evidence that consultants have really dug into the community and into our foundation, and are not just leaning on past experiences.
The FSG team presented an evidence-based plan and made it clear to the board and staff that they had interviewed many people in the community—that the team had good, honest discussions and brought their feedback to the process.
Anna Cross: This process gave everyone permission to pay attention—to truly stop and pay attention. We don't do enough of that, stopping to sit in the uncertainty and grapple with hard questions.
The fact that we did this over a longer period of time, six months was part of why it was a successful process. Holding multiple meetings meant we had the ability to have the moment, go home, reflect on what happened, and allow our thinking to evolve.
FSG also facilitated our meetings in a way that allowed everyone to participate. We did activities that gave everyone an equal voice, rather than only holding discussions where you lose people who are introverted.
In what ways do you anticipate the Foundation staff and Board growing and adapting new competencies to implement this plan?
Alan Geller: The foundation's staff and board are an extraordinarily committed group of people. We have the strong infrastructure of that group with 20 years of local context, knowledge, and commitment to health in the MetroWest region.
The hard thing for us now is balancing between wanting to ensure basic health needs for the entire community, which both the board and the staff think is incredibly important, and at the same time, wanting to innovate. I am in full support of the idea that we do not have to do all of these innovations at once, but test out new ideas, like in South Framingham, while learning and adapting from those pilots.
Anna Cross: Even though the planning process is over, this shift will require regular assessments of what needs to change, what's working, what isn't.
This plan fundamentally changes the role of the foundation. For the staff, that community engagement requires a new mindset and new skills. For the board, it means that we need to listen to and support the staff during this shift, and also help identify possibilities where collaboration could happen. Finally, we need to serve as the gatekeepers, not allowing the work to become so broad that the foundation loses focus and effectiveness.
What advice would you have for other board members supporting foundations through a strategic planning process?
Alan Geller: In order to innovate, you still need to have a sense that this process will not radically change the foundation. You have to find the sweet spot between totally shaking the foundation and just making small tweaks.
And once you're implementing the new plan, don't stop having difficult conversations. Build in mechanisms for the board to come together every 4 to 6 months to assess progress, discuss challenges, and balance innovations with fulfilling the core mission of the foundation. Create deliberate processes for the board, the staff, and the community to communicate with each other.
Anna Cross: Commit to the process—be honest with each other, with the staff, and be open to new possibilities and ways of tackling challenges you might not have considered before. If you can't do those things, don't start the process until you have laid the groundwork for success.
You need time to build trust. You need to build a board that is representative of the voices in the community, and you need to have a board culture that fundamentally believes all those voices should be there.
Learn more about FSG's philanthropy services >
Read Being the Change: 12 Ways Foundations Are Transforming Themselves to Transform Their Impact >