Last week, FSG was pleased to join the 50th-anniversary Southeastern Council of Foundations conference for a workshop with representatives from 60 foundations to discuss how to advance equitable systems change. Informed by our research, writing, and our own journey as an organization, we helped facilitate a conversation about how internal transformation within foundations connects to the evolving way foundations seek to promote change in the world. The workshop was the culmination of a year-long partnership with SECF to help its members support their systems change ambitions.
Foundation leaders Kathleen Boyle Dalen, Chief Talent, Integration and Culture Officer, Ewing Marion Kauffman Foundation (Kansas City, MO), Lesley Grady, Senior Vice President, Community, Community Foundation for Greater Atlanta (Atlanta, GA), and Eric Kelly, President, Quantum Foundation (West Palm Beach, FL) illuminated the conversation with insights and lessons learned from their own efforts to evolve their approaches to across the 4 dimensions of staffing philosophy, organizational structure and design, skill development and supportive culture.
Together, we discussed the various ways foundations are rethinking staffing. Workshop participants also reflected on their current approaches to staffing, identified priority areas for internal transformation, and solicited guidance about how they could adopt these approaches in their own work.
Live polling results showed approaches attendees currently use and approaches they hope to employ in the next 5 years.  The attendees discussed how they want to shift to more work that mobilizes communities and changing narratives in order to change underlying systems.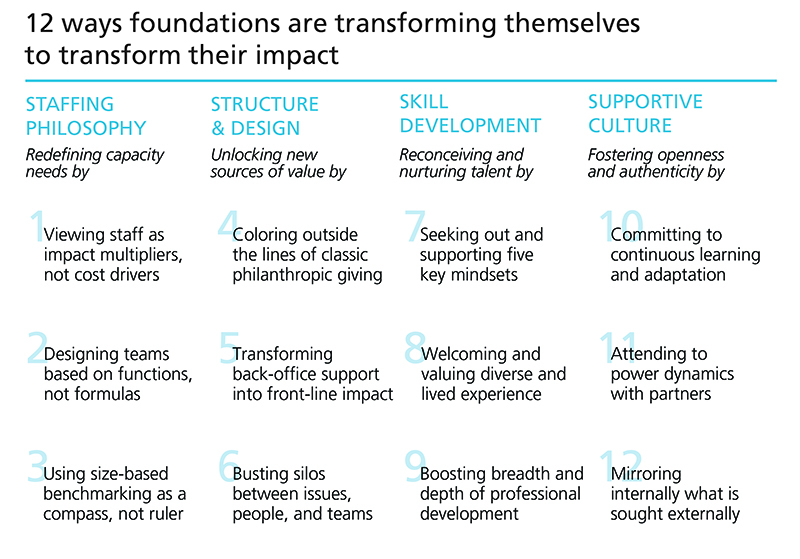 When asked about the practices that would most support their foundation's goals for equitable systems change, most participants selected "mirroring internally what is sought externally," "welcoming and valuing diverse and lived experience," "busting silos between issues, people, and teams,"  and "attending to power dynamics with partners."  Attendees were also sensitive to the need to communicate with community partners that their foundations' desires to be more present in the community does not mean that they want to take over their work. Rather, the goal would be to gain the understanding needed to support deeper and ultimately, more effective, work.
To learn more about the approaches and practices discussed at the workshop, read: "By Transforming Themselves, Foundations Move Toward More Transformational Impacts" in SECF's Inspiration publication by FSG's Ursula Wright.
Learn more about FSG's work with Foundations >